Canada remains the ninth most attractive country in the world for renewable energies, according to the latest global analysis by Ernst & Young.
Canada remains the ninth most attractive country in the world for renewable energies, according to the latest global analysis by Ernst & Young.

It scored 55 points on the 'all renewables' index in the August assessment, behind a rating of 70 for first-place United States and 66 for second-place Germany. China, India, Spain, Italy, Britain and France all ranked ahead of Canada, which was tied with Portugal. The balance of the top-25 rankings were Ireland, Greece, Australia, Sweden, Netherlands, Poland, Denmark, Belgium, Norway, Brazil, New Zealand, Japan, Turkey, Austria and Finland.
On the 'all renewables' index, Canada rose one point from the last assessment in March "on the back of provinces introducing their own legislation to introduce feed-in tariffs following the Canadian budget, which left established renewables technologies in the cold," the report explains. "Quebec and Ontario have introduced new feed-in tariffs or, in the case of Ontario, a framework that allows the state energy authority to set the tariffs."
For wind, Canada scored 60, with a ranking of 64 for onshore wind and 46 for offshore wind; 48 for biomass and 59 for infrastructure; but only 33 for solar and 31 for geothermal. Canada's score on wind also rose one point since the last assessment due to support at the provincial level.
On wind, the United States was scored as most attractive country, followed by China, Germany, India, Britain, Spain, Canada (seventh spot), Italy, France, Ireland, Portugal, Greece, Sweden, Australia, Belgium, Netherlands, Poland, Denmark, Norway, New Zealand, Japan, Brazil, Turkey, Finland and Austria.
The Ernst & Young country attractiveness indices provide scores for national renewable energy markets, renewable energy infrastructures and their suitability for individual technologies. The main indices (all renewables and long-term wind) are referred to as long-term indices while the near-term wind index takes a two-year view with different parameters and weightings.
For the 'all renewables' index, it combines individual technology indices with wind (onshore and offshore) comprising 75%, 10% for solar (both PV and CSP), and 15% for biomass and other resources. Individual technology indices are derived from scoring 35% for general country-specific parameters (infrastructure) and 65% for technology-specific parameters.
Featured Product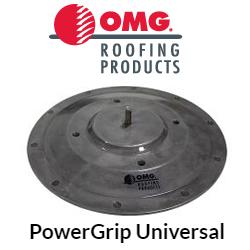 PowerGrip Plus Roof Mount System, a watertight structural attachment system used to secure ballasted solar racks and other equipment to roofs covered with thermoplastic (TPO and PVC) membranes. PowerGrip Plus is designed with wind performance in mind and offers ultimate tensile strength of 2,000 lbf. and ultimate shear strength of 1,075 lbf. Properly installed PowerGrip Plus units reduce rack movement and remaining watertight. PowerGrip Plus units are easy to install, saving both time and labor when compared to alternative options. A wide membrane skirt promotes easy welding in place, and the 15/8 diameter and 1/2 inch tall mount provides an optimal perch for securing brackets or struts. The exposed 1 inch tall and 3/8 inch diameter bolt and mounting stand are made from corrosion-resistant stainless steel and aluminum alloy for superior long-term performance.