Green IPO Watch at Renewableenergystocks.com- Lithium Battery Company A123Systems, Inc. (NasdaqGM: AONE) Comes to Market; 28.1 Million Shares at $13.50
Green IPO Watch at Renewableenergystocks.com- Lithium Battery Company A123Systems, Inc. (NasdaqGM: AONE) Comes to Market; 28.1 Million Shares at $13.50
POINT ROBERTS, WA and DELTA, BC—September 24, 2009 - www.RenewableEnergyStocks.com,
a leading green investor news and research portal for the renewable energy sector within www.Investorideas.com,reports on lithium battery company A123Systems, Inc. (NasdaqGM: AONE) 28.1 million share IPO, priced at $13.50 per share, well above original share pricing.
About A123Systems, Inc. (NasdaqGM: AONE):
A123Systems develops and manufactures advanced lithium-ion batteries and battery systems for the transportation, electric grid services and consumer markets. Founded in 2001 and headquartered in Massachusetts, A123Systems' proprietary nanoscale electrode technology is built on initial developments from the Massachusetts Institute of Technology.
A123Systems, Inc.(NasdaqGM: AONE) will be added to the Investorideas.com global renewable energy stocks directory, currently estimated at 900 publicly traded companies in the sector.
Subscribe to or add news to your site - the Green IPO Watch News Feed: http://www.investorideas.com/RSS/feeds/GreenIPO.xml
About Our Green Investor Portals:
www.RenewableEnergyStocks.com® is one of several green investor portals within Investorideas.com and provides investors with stock news, exclusive articles and financial columnists, audio interviews, investor conferences and a directory of stocks within the renewable energy sector.
Renewable Energy and GreenTech Business and Stock News at Investorideas.com
http://www.investorideas.com/RSS/feeds/RES.xml
Publish your green news: http://www1.investorideas.com/NewsUploader/Default.aspx
About InvestorIdeas.com: - One of the first online investor resources provides in-depth information on renewable energy, greentech and water sectors. InvestorIdeas.com is a leading global investor and industry research resource portal specialized in sector investing covering over thirty industry sectors and global markets including China, India, Middle East and Australia.
Investing in Renewable Energy, Environment and Water Stocks
Become an Investorideas.com Member- Gain login access to 8 global stock directories including renewable energy stocks directory, environment stocks, water stocks, fuel cell stocks, biotech stocks, defense stocks, natural gas stocks, oil and gas stocks as well as the Insiders Corner investor newsletter covering insider buying trends on small cap stocks. Join today -
http://www.investorideas.com/membership/
Disclaimer: Our sites do not make recommendations. Nothing on our sites should be construed as an offer or solicitation to buy or sell products or securities. We attempt to research thoroughly, but we offer no guarantees as to the accuracy of information presented. All Information relating to featured companies is sourced from public documents and/ or the company and is not the opinion of our web sites. This site is currently compensated by featured companies, news submissions and online advertising. Disclosure:
www.InvestorIdeas.com/About/Disclaimer.asp
For more information contact:
Dawn Van Zant 800.665.0411
Email: dvanzant@investorideas.com or cvanzant@investorideas.com
Featured Product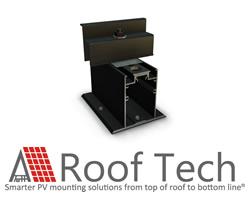 The most compact versatile rail-less PV mounting system under the sun. Instead of placing solar panels on top of long rails, simply attach E Mount AIR to rafters or the roof decking. Once panels are fastened to the roof, the system array is electrically bonded. The result is a visually seamless PV installation that stands the test of time. - Truly "One With The Roof". - PE stamped cert. letters available, UL 2703 Classified, ASTM 2140 fully waterproof. The one and only with integrated flexible flashing certified by the ICC! All the best quality. Only from Roof Tech