Designed and constructed at equal cost to a traditional building, the 54,000 square foot structure produces six times fewer greenhouse gas emissions
Dijon, September 29, 2009 - The Elithis Tower, designed and constructed as the world's most environmentally sound building, has just been unveiled. Touted as the first positive energy office structure, the tower creates more power than it uses. From design to material and user behavior, the Elithis Tower applies the latest sustainable development techniques and is now open to journalists, academics and architects interested in studying or replicating this model.

Built in Dijon, France, the Elithis Tower was initially a theoretical challenge Thierry Bievre, General Director of the group Elithis Engineering, put forth to his team. Specialized in technical fluid installation and environmental efficiency, Bievre wanted to know whether it was possible to create an environmentally sound building at equal cost to a traditional structure.
Supported by the City of Dijon, France, and ADEME Bourgogne, France, Elithis Engineers called upon renowned architect Jean-Marie Charpentier (Arte Charpentier Architects, Paris, France) for close collaboration. Together, the group rose to the challenge to create the 54,000 square foot, ten story building which marries aesthetics, urban integration, comfort, energy and environmental performance.
To achieve this impressive combination, a complete environmental ideology was designed. Positive energy buildings produce more power than they consume and the Elithis Tower team strategically minimized energy consumption and maximized renewable energy use.
The Elithis Tower
The Elithis teams committed to eliminating space waste. Materials for this project were chosen according to their global environmental impact. The exterior of the building is made of wood and recycled insulation, while aluminum, which strongly impacts the environmental, was used sparingly.
Bay windows were selected to bring in natural light. To complement this, a special nomad was designed by the Elithis team to guarantee a comfortable level of light is available without excess artificial illumination.
To take advantage of solar energy (warmth and natural light) without the associated inconveniences (excess heat and blinding brightness) a solar shield was designed by the Elithis engineers. Thanks to the unique design of this shield, natural light enters the building while excess heat and blinding light are filtered out.
In addition, a triple flow system has been patented by Elithis, which harmonizes energy in the building. Office energy emissions (from computers, photocopiers, lights, people…) are recovered, saved, harnessed and reused within the Elithis Tower.
Behavioral impact
To match the engineering and architectural commitment to energy efficiency, everyone in the Elithis Tower, from owners, tenants, leaders and academics, to administrators, employees and visitors, is empowered to participate in the environmental efficiency of the project.
An increased level of consciousness is encouraged, meaning that people within the building are aware of their responsibility in energy consumption. Individuals will be inspired to make positive choices to minimize energy use (in terms of paper, water, transportation…) and reduce the environmental impact users have on their environment.
Evaluation and understanding
Because the Elithis Tower is such an innovative experience, the building is designed to facilitate evaluation and understanding. More than 1,600 sensors have been installed to meticulously examine and analyze energy and emissions. Daily energy consumption will be posted and displayed on a special public sign, in full transparency for building greenhouse gas emissions and environmental impact.
The Elithis Tower is the first active environmental laboratory of its kind and scientists, researchers and universities are invited to visit the Elithis Tower and evaluate the information collected in this project.
Technical details:
Building size - 54,000 square feet
Building details - Ten stories of office space
Main floor of retail and restaurant space
Building height - 110 feet
Total building cost - 10 million dollars
R & D timeline - Six months
Start date - December 14th 2007
Completion date- March 31st 2009
About Elithis Engineering:
Elithis Engineering is specialized in the design and installation of technical fluids (energy, comfort, technology, energy efficiency...) into buildings. Their expertise plays an essential role in how to use, save and optimize energy resources to better serve the people of today and tomorrow, while minimizing or eliminating the negative impact on the environment or the population.
Elithis Engineering works at the heart of sustainable development. They lead by example with the implications, research, experimentation and application of their initiatives.
Featured Product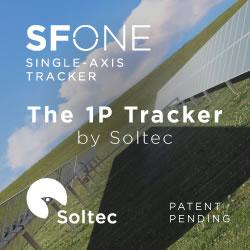 Soltec manufactures and supplies solar trackers designed and proven for extreme climate conditions, which is an ideal solution for any region's environment. Soltec's trackers are self-powered, requiring no additional PV module or grid-powered connection. Bifacial modules collect energy on both the front and rear sides, capturing reflected irradiance from the ground surface under and around the tracker and from other modules. Depending on site conditions, bifacial yield-gain can reach +30 percent.