Bill presents a good start for accelerating solar energy so that U.S. can do more sooner to cut pollution and address climate challenges.
For Immediate Release

September 30, 2009
SEIA STATEMENT ON SENATE ENVIRONMENT & PUBLIC WORKS COMMITTEE DRAFT CLIMATE LEGISLATION
Bill presents a good start for accelerating solar energy so that U.S. can do more sooner to cut pollution and address climate challenges.
WASHINGTON, DC - Solar Energy Industries Association President and CEO Rhone Resch today released the following statement on the Senate Environment & Public Works Committee's draft language for a cap-and-trade program.
"We commend Chairwoman Boxer and other members of the committee for their leadership in putting forth a strong climate bill that will move America's clean energy economy forward. This legislation includes provisions that will help accelerate development of solar energy and create jobs while reducing pollution that causes climate change.
"For the long-term success of climate and energy policy in this country, there must be a price on carbon. And we must recognize that for the next 10 to 15 years our only options for carbon-free energy are off-the-shelf renewables such as solar. In the coming weeks, we look forward to working with the EPW committee and other Senate committees to help complete this bill and craft a comprehensive climate policy for our nation that builds our economy by growing our renewables industries."
Areas that need attention as the draft is completed:
10 percent of the allowances must go to the states for renewable energy and energy efficiency (as in the House version) and there needs to be deployment funds for both distributed generation and for utility-scale renewables projects; The cap-and-trade system must be constructed to recognize and protect the contribution of clean energy from the voluntary renewables market; andSupport states that are heavily dependent on agriculture in order to assist in the adoption and implementation of renewable energy technology.
###
Media Contact:
Monique Hanis, 202.556.2885, mhanis@seia.org
Jared Blanton, 202.556.2886 jblanton@seia.org
Mark Sokolove, Tigercomm, 703.302.8382, mark@tigercomm.us
About SEIA:
Established in 1974, the Solar Energy Industries Association is the national trade association of solar energy industry. As the voice of the industry, SEIA works to make solar a mainstream and significant energy source by expanding markets, removing market barriers, strengthening the industry and educating the public on the benefits of solar energy. Learn more at www.seia.org.
SEIA President & CEO Rhone Resch is on Twitter: http://twitter.com/RhoneResch
SEIA is on YouTube (http://www.youtube.com/thesolarindustry) and FaceBook (http://www.facebook.com/pages/Solar-Energy-Industries-Association/112495296809)
Featured Product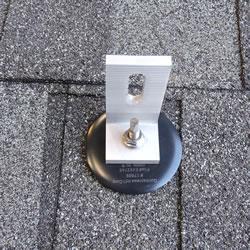 SolarRoofHook's Low Profile QuickBOLT with Microflashing™ is the industry's affordable, UL Certified Asphalt Shingle mounting system. The Microflashing™ is compressed by the collar on the bolt to create a water-tight seal. With an installation time of less than one minute, the Low Profile QuickBOLT allows installers to complete more jobs.