Dijon reaffirms its desire to become a reference for ecological urban development
Dijon, France, October 7th 2009 - Communities influence and impact up to 50% of greenhouse gas emissions through urban or rural planning policies, transportation and other public measures. Because of this, communities have a heavy responsibility to act on environmental issues and increase citizens' awareness. Through its ecological urban policy, the city of Dijon, France, aims to create the best conditions for regional development while promoting social cohesion in harmony with the environment.

Burgundy's capital commits to the environment
Dijon is committed to environmental improvement on all levels. The city has set an objective for carbon balance by 2010 and is following a regional energy climate plan called PCET (plan climat énergie territorial), designed to reduce greenhouse gas emissions. It has also applied for the European City'ergie label 2010.
With the objective to preserve its rich cultural heritage, protect its surroundings and improve the quality of life of its citizens, le Grand Dijon (Dijon and its surrounding region) in collaboration with key actors in the region (citizens, associations, companies, institutions and members of parliament), put forth an environmental Charter in 2004. This Charter encompasses four major themes:
Transportation
Dijon is investing in alternative public transportation modes and several projects are underway including: construction of a tramway with two lines planned for 2013, usage of natural gas in buses, free electric shuttles in the city centre, free bike system, development of bike lanes, increasing car-free areas in the city center, investing in Dijon becoming a central connection city for the TGV network by constructing three branches of the future LGV Rhin-Rhône high-speed railway line.
Dijon's ecology friendly transportation initiatives have received recognition on a national level and, at end of 2008, le Grand Dijon was granted the Ticket vert (Green ticket) by the FNAUT (Fédération Nationale d'Associations d'Usagers des Transports), the French consumer association specialized in public transportation.
Urbanism
The city of Dijon is systematically supporting ecological urban construction solutions that comply with sustainable development standards such as the French Haute Qualité Environnementale (High Environmental Quality) standard for green building, and the Bâtiment de basse consommation énergétique (Building of low energy consumption) standard. The city is also promoting its eco-districts such as those of Junot, Hyacinthe Vincent and the "Grand Sud".
In addition, a local urbanism plan, écoPLU, will integrate different environmental projects and support construction with positive energy. The Elithis Tower, the first positive energy office building in the world, located in Dijon, exemplifies the type of eco-urban development the Dijon is committed to supporting.
Water purification
Since 2004, le Grand Dijon has been leading a meticulous water program called "Eauvitale" that includes: constructing two new purification centers that considerably reduce pollution, renovating Dijon-Longvic purification center's incinerator according to regulatory norms, increasing water usage consciousness, pushing for tap water consumption.
Dijon participates in a competitive cluster of VITAGORA Goût Nutrition Santé (taste, nutrition, health) with the objective to improve the taste of water to increase tap water consumption.
Recycling and waste management
Dijon aims to optimize waste management through several actions: generalizing selective waste collecting, creating a domestic waste sorting center designed to sort materials (wrappings and papers) and sending this waste to specialized recycling centers, opening a special unit for potentially infectious waste, renovating factory incinerators according to European regulatory norms, installing a turbo alternator which converts energy produced with combustible waste into alternative energy.
Real determination for sustainable development
At a time when sustainable development becomes a necessity, Dijon and its region are truly devoted to prioritizing environmental issues. This is reflected in the level of investment dedicated to protecting natural resources; since 2002, the city has invested almost 100 million euro in the environmental domain (investment in the tramway not included).
François REBSAMEN, Senator and Mayor of Dijon and president of le Grand Dijon commented during the inauguration of the Elithis Tower: "Sustainable development has to be a priority for all of us. It cannot be considered a matter of a central decision level only. It must be reinforced at all levels. I want us all, together, to make new forms of energy available and to follow the example of the Elithis Tower to make of our city one of the most symbolic examples of sustainable development."
Featured Product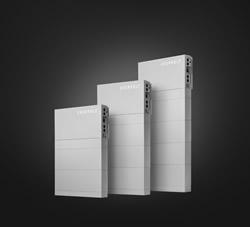 Panasonic's Total Home Energy System is built to deliver. The same battery technology we use to power the world's most advanced electric cars is now available to power your home. But it doesn't stop there. The all-in-one renewable energy system pairs Panasonic solar panels with Evervoltâ"¢ batteries to offer your customers a complete solar + storage solution, manufactured and warrantied by a company you know you can trust. In stock now.