InvestorIdeas.com, a leading online global investor resource, with a primary focus on environment and water provides tips and resources for green and cleantech companies seeking funding
How to Get your Green Business Funded

POINT ROBERTS, Wash., Delta B.C., October 9, 2009 - www.InvestorIdeas.com, a leading online global investor resource, with a primary focus on environment and water provides tips and resources for green and cleantech companies seeking funding.
A recent report on funding from the The Cleantech Group at the beginning of October announced preliminary 3Q09 results for clean technology venture investments in North America, Europe, China and India totaling $1.59 billion across 134 companies.
Government funding and tax incentives were key to enabling growth in the sector.
Read full cleantech funding report: (http://www.investorideas.com/News/100109a.asp)
The Investor Ideas Marketplace is fast becoming a global meeting place and exchange for businesses and investors, with a primary focus on green and cleantech. Based on feedback and insight from both perspectives, Investorideas.com shares the following feedback to achieve stronger results:
Recent Feedback and Comments:
" Make sure the executive summary is specific to the company and compelling - not just a bunch of general market data and statistics"
" Companies with existing revenue or contracts have preference "
" We are looking for disruptive technology plays"
" Have a realistic valuation on your company based on today's market"
" Be clear about what differentiates you in the marketplace "
" Shovel ready projects with permits in place have stronger funding ability"
Investorideas.com also notes that several of the funding groups are looking for companies that are pre-IPO with going public as a possible exit strategy.
For green businesses seeking funding Investor Ideas has created tools to help and accelerate the process internally with the Global Green Fund and Venture Capital Directory (http://www.renewableenergystocks.com/Companies/RenewableEnergy/Funds-and-Venture-Capital-Investing.asp) .The green funding directory, available in PDF has close to 500 contacts including global green funds, VC, Private Equity, Investors and Investment Banking firms. The directory will be updated and added to each month as new companies enter the sector.
The Investor Ideas Marketplace (http://www.investorideas.com/marketplace/) is another option for companies seeking funding or strategic partners to invest in their business. Companies can gain exposure by online advertising starting as little as $100 with a text link or more publicity by publishing company news and press releases (http://www1.investorideas.com/NewsUploader/Default.aspx) . If the right company reads your press releases it can result in investment inquiries.
Accredited Investors and Companies seeking funding can register and request info online. Approved accredited investors can view the secure marketplace pages featuring executive summaries of each company. Approved companies can be added to the growing list of companies. Register and sign up (http://www.investorideas.com/marketplace/signup.asp) to view the private access link or to have your company added:
Green Investors - Become an Investorideas.com Member- Research water, renewable energy and environment publicly traded companies in global markets. Become an InvestorIdeas.com member (http://www.investorideas.com/membership/)
About InvestorIdeas.com:
Investorideas.com Mission Statement
Investorideas.com creates a meeting place for investing ideas to take form and come to life in an entrepreneurial environment, servicing the needs of small investors and start- up companies to large conglomerates! We cover multiple industry sectors but specialize in environmental and water.
About Our Green Investor Portals:
www.RenewableEnergyStocks.com is one of several green investor portals within Investorideas.com and provides investors with stock news, exclusive articles and financial columnists, audio interviews, investor conferences, Blogs, and a directory of stocks within the renewable energy sector.
Disclaimer: (http://www.investorideas.com/About/Disclaimer.asp) Our sites do not make recommendations. Nothing on our sites should be construed as an offer or solicitation to buy or sell products or securities. We attempt to research thoroughly, but we offer no guarantees as to the accuracy of information presented. All Information relating to featured companies is sourced from public documents and/ or the company and is not the opinion of our web sites. This site is currently compensated by featured companies, news submissions and online advertising.
For Additional Information:
Dawn Van Zant: 800-665-0411 - dvanzant@investorideas.com
Or Cali Van Zant, cvanzant@investorideas.com
Source - Investorideas.com
Featured Product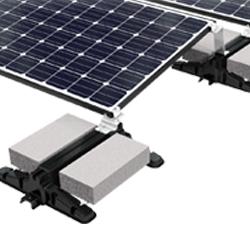 The Power Rail™ Commercial Mounting System is designed with the professional PV solar installer in mind. Both the XD/UD and LD/MD rails feature single tool assembly with the revolutionary patented RAD™ Lock-in-Place bolt for fast and secure module clamping. The high strength marine-grade aluminum rails include an integral wiring channel for securing cables and providing a professional finish.