• The Spanish company will also provide advice on engineering and design optimization of the 3 MW plant, located in Ivarem. • The new plant will represent 3% of the Belgian solar photovoltaic market, whose facilities represent 100 MW of the total output installed in the country.
October 13, 2009 .- The Spanish company PROINSO, specialists in engineering and supply of photovoltaic solar plants, has signed a collaboration agreement with the Belgian engineering company Nizet, for the supply of modules, inverters and fixed structures, which will become the largest solar farm in Belgian, located in Ivarem.

PROINSO-a company which forms part of the OPDE group- will also be responsible for advising on engineering and design optimization, as well as training the qualified staff of the Belgian company. The new plant at Ivarem will have an output of 3 MW and will become the largest in Belgium, a country with a total of 100 MW of solar photovoltaic facilities, which will represent 3% of the total market.
The entire supply operation will amount to €5 million and will run from mid October until next December 2009, date for the launch of the new solar plant which will work in combination with a methane plant.
Thus, for the next months PROINSO will provide: 3 MW of Trina Solar TSM-PC05 modules of 235 Wp (with an efficiency of 14.4%), 270 SMA inverters (SMC11000TL equipment); 266 MECASOLAR fixed structures (model MS-2CFIX) as well as communications and monitoring equipment (SMA).
PROINSO are extremely satisfied with the importance of the agreement. "Not only because we will be supplying and advising Belgium's largest plant, but for the trust Nizet have placed in us by choosing us as a partner for their first incursion into solar photovoltaics of this size.
In this regard, we must remember that the Belgian company- with an annual turnover of €1,300 million and a history of more than a century in the market is one of the country's largest engineering companies.
Recently, it took charge of building an offshore wind farm (at sea, a few miles from the coast) with a 300 MW output to the north of British Isles.
Company Information:
PROINSO www.proinso.net
PROINSO is part of the OPDE Group specialised in engineering and supply for solar photovoltaic plants.
In 2008 the company distributed a total of 80 MW in modules and 140 MW in invertors. PROINSO has distribution agreements with Trina and REC for modules, with SMA for converters, and with MECASOLAR for trackers and fixed structures.
PROINSO´S internationalization process has become consolidated through its experience in solar photovoltaic energy in Europe, where it is one of the leading companies. //
Featured Product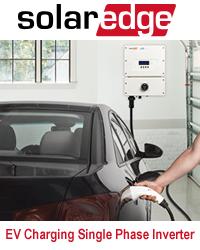 The SolarEdge PV inverter combines sophisticated digital control technology with efficient power conversion architecture to achieve superior solar power harvesting and best-in-class reliability. The fixed-voltage technology ensures the solar inverter is always working at its optimal input voltage over a wider range of string lengths and regardless of environmental conditions. A proprietary data monitoring receiver has been integrated into the inverter and aggregates the power optimizer performance data from each PV module. This data can be transmitted to the web and accessed via the SolarEdge Monitoring Portal for performance analysis, fault detection and troubleshooting of PV systems.