New system enables parallel architecture for simpler installation, design flexibility, and 5 to 10 percent reduction in total system costs
SAN JOSE, Calif., October 14, 2009 - eIQ Energy, Inc. today announced the availability of its vBoost 250 and vBoost 350 DC-to-DC converter modules, which reduce the installed cost and improve the efficiency of solar power arrays. The modules will be exhibited at Solar Power International in Anaheim, Calif., Oct. 27 - 29, at eIQ Energy's booth number 2666 in the Balance-of-Systems Hall.

The vBoost 250 and 350 are the core components of eIQ Energy's Parallux system, which enables solar panels to be wired in parallel rather than in series. Parallel wiring reduces the amount of hardware needed for a solar array, simplifies array wiring, and removes many design and installation constraints.
While panels and inverters are the most visible and expensive components of a solar power installation, the wiring, junction boxes, racks and other "balance-of-system" gear drive significant cost as well. The vBoost technology removes the need for much of this equipment and can cut total system costs by 5 to 10 percent, even for large commercial installations.
Additional savings can be realized through simplified design and installation. Each vBoost module has an integrated wiring harness and snap-together connector, which eliminate a large amount of custom on-site wiring. The vBoost modules also provide distributed maximum power point tracking. This ensures that the inverter constantly operates within its optimal range, with each panel contributing to its full potential at all times, regardless of shading, installation angle, soiling, and other design and operational issues. This simplifies the task of designing an array, gives designers more flexibility, extends the life of system components, and increases power harvest by 5 to 30 percent.
By applying advanced DC power management technology to solar energy, the vBoost modules also allow an unprecedented number of solar panels to be connected on a single cable. Over 100 thin-film panels can be linked, a 20-fold increase over traditional wiring schemes.
Unlike microinverter-based wiring technology, the Parallel Solar approach creates a DC bus that operates at a constant high voltage, allowing an installation's DC-to-AC conversion to be handled by a single central inverter operating in its most efficient range. This approach means there is only one inverter connection to the outside power grid, rather than hundreds or thousandsógreatly reducing the need for connection monitoring and management.
"Our beta-testing program has validated the design decisions of our engineering team, and provided extremely encouraging performance results for the vBoost products," said eIQ Energy CEO Oliver Janssen. "From the beginning, our mission has been to make solar energy more practical and affordable. Bringing vBoost to market is not only a milestone in that process but also a stepping stone in delivering the potential of renewable energy into the mainstream."
Base MSRP for the vBoost is $99.95 for the vBoost 250, which is designed for use with lower-voltage panels and has a 250-watt capacity, and $129.95 for the 350-watt vBoost 350, which is optimized for higher-voltage panels including thin-film designs. Harness solutions are also available, and are customized based on each system's specifications. The vBoost unit is available immediately. Additional elements of the Parallux system, including the communication module for panel-level monitoring via the main power bus, will be formally announced later this year.
The vBoost 250 and 350 are available directly from eIQ Energy and through distributors. Markets include solar system installers and designers, and others seeking to reduce the cost and increase the performance of new solar power installations. More information is available at www.eiqenergy.com.
About eIQ Energy
eIQ Energy, Inc. uses unique power management technology to make solar energy and other clean energy sources more effective and affordable. The company's Parallux system, built around the vBoost converter module, reduces overall system costs and enables a true Parallel Solar architecture - benefiting system designers, installers and operators. eIQ Energy was founded in 2007 with the principal goal of improving the performance and the return on investment for clean energy sources such as photovoltaic systems. Headquartered in San Jose, Calif., eIQ Energy's executive team combines sophisticated knowledge of power supply design, semiconductors and energy management with broad entrepreneurial skills.
Agency Contact
Jason Isberg
Loomis Group
415-882-9494
isbergj@loomisgroup.com
eIQ Energy Contact
Michael Lamb
eIQ Energy
408-533-8560
mlamb@eiqenergy.com
Featured Product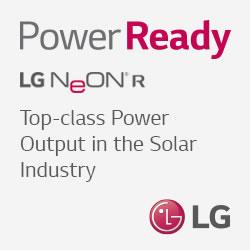 The NeON R module features "Back Contact" cell technology delivering an entirely black panel that is aesthetically pleasing and energy efficient. The cell's seamless, surface blends perfectly into nearly all rooftop designs while the module's electrodes are positioned on the rear of the cell. Using LG's N-type cell structure, the panels produce 365W of energy, up to 7.3kWp, compared to 5.8kWp of the p-type cell. The module's new design minimizes LID, thereby delivering a longer lifespan and increased energy output.