Automated Vision Guided Wafer Unloading Application Featuring Adept Quattro™ s650 Robot to be Demonstrated at Solar Power International 2009
PLEASANTON, Calif.- October 21, 2009, Adept Technology, Inc. (NASDAQ:ADEP), a leading provider of intelligent vision-guided robotics and global robotics services, today announced its solar cell unloading system will be showcased at the Solar Power International 2009 (SPI 2009) show in Anaheim, California in Isthmus Engineering's booth # 753 October 27-29, 2009. The two companies have partnered to demonstrate a high-speed vision-guided solar cell handling system using the Adept Quattro™ s650 robot programmed using Adept ACE™, Adept's fully integrated automation control environment. The application will also utilize the powerful inspection and guidance capabilities found in AdeptSight™ 3.0 an easy-to-use, standalone vision guidance and inspection package that runs on a PC.

"With the overall growth of the global solar industry the SPI show has become a premier gateway for international companies conducting business in the U.S. solar market. So we are excited to be working closely with Isthmus Engineering who has been providing automation solutions to manufacturers for over 25 years," said John Dulchinos, president and chief executive officer for Adept Technology, Inc. "Attendees visiting the Isthmus booth will see firsthand how Adept solar products and Isthmus Engineering's solutions help solar device and equipment manufacturers realize lower costs and improved quality."
"This show is truly a "must attend" event that attracts the widest range of professional solar attendees so we are very excited to be participating," said Steve Kinderman, sales director for Isthmus Engineering. "In addition to a firsthand look at the exciting solar unloading system, attendees stopping by our booth will have access to our team of automation engineering experts who can address even the most complex of solar manufacturing challenges."
The SPI 2009 show is the premiere solar event in the US, growing from 1,100 attendees to over 22,500 in just 5 years. Approximately 900 companies will exhibit at SPI 2009, including cell and module manufacturers, inverter and other component manufacturers, material and equipment manufacturers, installers, integrators, and investors. The attendees come from all segments of the solar value chain including manufacturers, integrators and installers, large and small customers, architects and builders, and policymakers. More information and registration can be found at http://www.solarpowerinternational.com/
About Isthmus Engineering
Isthmus, based in Madison WI, USA has successfully delivered thousands of high performance automation systems since 1980. It provides innovative solutions for process automation, helping customers automate functions not served by existing manufacturing equipment. The company has substantial experience in both material handling and assembly applications for products closely related to the solar industry. The company's expertise ranges from miniature assembly to large scale material handling and web processing. More information is available at www.isthmuseng.com.
About Adept Technology, Inc.
Adept is a global, leading provider of intelligent robotics systems and services that enable customers to achieve precision, speed, quality and productivity in their assembly, handling, packaging, testing and other automated processes. With a comprehensive portfolio of high-performance motion controllers, application development software, vision-guidance technology and high-reliability robot mechanisms, Adept provides specialized, cost-effective robotics systems and services to high-growth markets including Packaged Goods, Life Sciences, Disk Drive/Electronics and Semiconductor/Solar; as well as to traditional industrial markets including machine tool automation and automotive components. More information is available at www.adept.com.
All trade names are either trademarks or registered trademarks of their respective holders.
Featured Product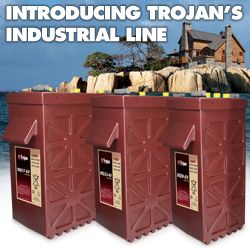 Trojan's deep-cycle batteries provide rugged durability, outstanding performance and long life for use in all types of solar energy installations. With over 90 years of experience, Trojan delivers the world's most reliable and trusted batteries in flooded, AGM, Gel, and Lithium types. These batteries enable solar equipment systems to operate at a peak level of performance in the harshest conditions or the most challenging of locations and are manufactured and tested to IEC standards.