High-growth entrepreneural companies in the cleantech/alternative energy industry are encouraged to apply before the early application deadline on Nov. 13.
ST. LOUIS, MO., OCT. 22, 2009 - InvestMidwest Venture Capital Forum kicked off its application period for the Midwest's premier venture capital event on Thursday, Oct. 1, issuing an open call to high-growth companies interested in presenting their business plans to an audience of the nation's top venture capitalists, corporate and private investors and investment bankers. The early application deadline is Nov. 13, and Jan. 8, 2010 is the final application deadline to be considered for participation in the March 24-25 venture capital forum, which is being hosted by Wells Fargo Advisors in St. Louis. The application form can be completed online at www.investmidwestforum.com.

The 11th Annual InvestMidwest Venture Capital Forum aims to attract applicants from throughout the Midwest who have launched entrepreneurial growth companies in a range of industries. InvestMidwest 2009 attracted 315 attendees, including 74 venture capital professionals who took in presentations by 43 growth-oriented companies with the potential to generate at least $20 million in annual revenue within five years. This year's forum will again feature separate presentation tracks for life sciences, IT/general business and cleantech/alternative energy.
"Since our first forum, held in St. Louis in May 2000, InvestMidwest has helped generate more than $400 million in equity investments for many innovative entrepreneurial growth companies," noted Chris Walsh, Executive Director of InvestMidwest. "We hope to continue to add to that number with the relationships that will be sparked at our 2010 event."
InvestMidwest is expected to once again unite some of the country's leading venture capitalists, corporate investors and angel investors, who will gather for the presentations. Selection of presenting companies is based on: a company's value proposition, management team, products or services, marketing strategy, market opportunity and financial summary. Those firms selected will receive presentation guidelines and guidance to ensure the presenters meet the forum's professional presentation standards.
"We encourage entrepreneurs to get their applications in by the early deadline," said Walsh. "Those who do so have an advantage as the selection committees will have the time and flexibility to obtain clarification from a company on its application, which can make the difference in whether or not they are selected to present."
InvestMidwest's mission is to provide access to equity capital for emerging, privately held companies seeking venture funds in excess of $1 million. The 11th annual InvestMidwest Venture Capital Forum is supported by a diverse group of public and corporate sponsors. The Ewing Marion Kauffman Foundation will act as the funding educational sponsor, and organizational sponsors include the St. Louis Regional Chamber and Growth Association (RCGA), KCSourceLink, Missouri Venture Forum, The Greater Kansas City Chamber of Commerce and the Kansas Technology Enterprise Corporation (KTEC).
For more information or to obtain an application, visit www.investmidwestforum.com or call 314.444.1151.
Featured Product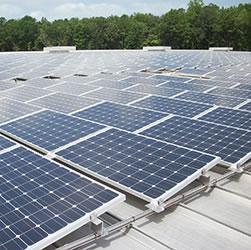 The Power Rail™ Commercial Mounting System is designed with the professional PV solar installer in mind. Both the XD/UD and LD/MD rails feature single tool assembly with the revolutionary patented RAD™ Lock-in-Place bolt for fast and secure module clamping. The high strength marine-grade aluminum rails include an integral wiring channel for securing cables and providing a professional finish.