With the recent launch of its new Focus Solar Water Heating Solutions, EnerWorks is looking to expand quickly in markets that do not have long-term freeze events.
With the recent launch of its new Focus Solar Water Heating Solutions, EnerWorks is looking to expand quickly in markets that do not have long-term freeze events.

"We've already established partnerships with two distributors in such regions," says Tony Ali, EnerWorks VP Sales & Marketing, "and are looking to explore additional distributorship opportunities while at the upcoming Solar Power International conference and expo."
EnerWorks' significant growth over the past year has included the establishment of several new distributors and partners.
"We have devoted considerable resources to the fostering of strong distributor partners," says Ali. "We feel it's critical to have a local presence in each territory to develop the kind of relationships and provide the level of customer service that EnerWorks upholds. We're looking for partners who will appropriately represent us in bringing the outstanding environmental and economic benefits of solar water heating to residential and commercial projects in new markets."
The water-based Focus Solar Water Heating Appliance will be on display at EnerWorks' booth at Solar Power International, along with EnerWorks all-climate Spectrum Solar Water Heating Solutions and an additional product appropriate for tropical climates: Harpiris Energy's SunCache solar water heater, which EnerWorks will be promoting in export markets. SunCache is the lowest-cost residential-scale renewable energy system that is certified in the United States.
"The SunCache solar water heater system is an excellent fit with our product line up," says Ali. "With its simple passive design, low cost yet high reliability, it enables EnerWorks distributors and dealers to provide the best solution for an increased breadth of projects."
About EnerWorks
EnerWorks Inc. is a leading North American solar thermal technology provider. With proven, patented technology and certified systems, EnerWorks offers high quality, reliable and cost effective renewable energy solutions to the North American and Caribbean markets.
EnerWorks develops and manufactures proprietary renewable energy appliances for residential, commercial and industrial markets. In the residential market, EnerWorks's solar water heating appliances are fully certified, ENERGY STAR® qualified, and the first system to meets CSA international standards. They complement existing water-heating systems and provide users with clean energy and a real reduction in energy costs. In the commercial and industrial markets, EnerWorks is at the forefront of integrated solar thermal solutions, working with local partners to design, install, commission and maintain solar thermal heating and cooling systems.
Featured Product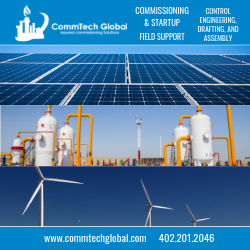 CommTech Global Solutions, LLC, provides professional and reliable commissioning services to customers in all realms of the energy industry. We blend our skills in engineering and technology with innovative business models, offering a complete range of services to assist you for a successful and in compliance operational startup. Consolidation of all our service domains gives our clients a comprehensive set of expertise and far-reaching experience on each project.