Engagement will explore opportunities for improved efficiency of electrical components used in solar installations
SAN JOSE, Calif., October 22, 2009 - eIQ Energy, Inc. and PV Powered, Inc. of Bend, Ore., will jointly explore enhancements to their solar energy conditioning products in a collaborative effort announced today.

The two companies will seek to optimize system-level solutions used in solar power installations. By pre-validating the operation of PV Powered inverters and eIQ Energy's vBoost product, system designers can be assured of the interoperability and optimal performance of the two solutions. PV Powered is a leading supplier of high-efficiency inverters, which convert the DC power generated by solar panels to AC. eIQ Energy's Parallel Solar technology—including the recently launched vBoost DC-to-DC converter modules—allows solar arrays to be wired in parallel rather than series, with substantial cost savings.
The two companies' products will inter-operate across electrical buses, where there are opportunities to optimize the performance of system components. These optimizations will not only improve the operation of the solar installation but will also have a significant impact on the economics.
Among other things, the vBoost narrows the range of the voltages seen by the inverter, which could enable higher conversion efficiency for inverters. The data that can be provided by the vBoost system will give array operators better visibility into performance and potential problems before they have a chance to affect the inverter.
"We see an opportunity to collaborate with eIQ Energy and provide our customers system-level solutions that improve the economics of solar by optimizing power production from the panel to the inverter to the grid," said Gregg Patterson, CEO of PV Powered.
Oliver Janssen, CEO of eIQ Energy, added, "We have great respect for PV Powered's technology; we're using their inverters at a number of our beta installations with excellent results. We look forward to having a solution on the market that can take advantage of the innovation that the joint optimization of the two products will bring to the table."
About eIQ Energy
eIQ Energy, Inc. uses unique power management technology to make solar energy and other clean energy sources more effective and affordable. The company's Parallux system, built around the vBoost converter module, reduces overall system costs and enables a true Parallel Solar architecture—benefiting system designers, installers and operators. eIQ Energy was founded in 2007 with the principal goal of improving the performance and the return on investment for clean energy sources such as photovoltaic systems. Headquartered in San Jose, Calif., eIQ Energy's executive team combines sophisticated knowledge of power supply design, semiconductors and energy management with broad entrepreneurial skills.
About PV Powered
PV Powered is the innovation leader for grid-tied PV inverters in the residential, commercial and utility markets, setting the industry standard for innovation in reliability and efficiency. Founded in Bend, Oregon in 2003 and privately owned, the company brings together one of the most experienced design teams in solar power electronics. PV Powered was recently selected to receive a Stage 2 award under the Solar Energy Grid Integration System (SEGIS) program by the U.S. Department of Energy (DOE). The company is leading a team of recognized distributed energy and smart grid partners in developing innovations that increase energy harvest, reduce the cost of PV systems, and remove barriers to high levels of PV grid penetration. For more information on the company, visit www.pvpowered.com.
Agency Contact
Jason Isberg
Loomis Group
415-882-9494
isbergj@loomisgroup.com
eIQ Energy Contact
Michael Lamb
VP Business Development
408-533-8560
mlamb@eiqenergy.com
Featured Product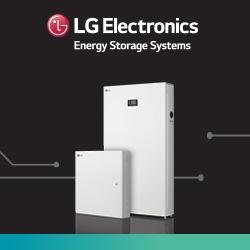 The NeON R module features "Back Contact" cell technology delivering an entirely black panel that is aesthetically pleasing and energy efficient. The cell's seamless, surface blends perfectly into nearly all rooftop designs while the module's electrodes are positioned on the rear of the cell. Using LG's N-type cell structure, the panels produce 365W of energy, up to 7.3kWp, compared to 5.8kWp of the p-type cell. The module's new design minimizes LID, thereby delivering a longer lifespan and increased energy output.