BioSolar, developer of a breakthrough technology to produce bio-based materials from renewable plant sources that reduce the cost of photovoltaic (PV) solar cells, announced today that the research and development phase for the company`s proprietary BioBacksheet-C has been completed.
World`s First Bio-based Solar Panel Backsheet Now Qualifies for Commercial

Production after Completion of Research and Development Phase
SANTA CLARITA, Calif.--(Business Wire)--
BioSolar (OTCBB: BSRC), developer of a breakthrough technology to produce
bio-based materials from renewable plant sources that reduce the cost of
photovoltaic (PV) solar cells, announced today that the research and development
phase for the company`s proprietary BioBacksheet-C has been completed. Now
qualified for production, the BioBacksheet-C, designed for traditional silicon
(c-Si) photovoltaic solar panels, will be the company`s first product to become
available commercially.
"Designed specifically for cost-sensitive, economical PV solar cell modules, we
expect the BioBacksheetTM-C to be instrumental in driving down the cost per watt
of solar power," said Dr. David Lee, President and Chief Executive Officer of
BioSolar. "An initial full production run was recently completed at one of our
manufacturing partners and samples will be available for all interested PV
module manufacturers shortly."
BioSolar is working to make solar power "greener" and more affordable by
developing natural, non-toxic alternatives to the petroleum-based film in use by
most silicon-based solar module manufacturers today. Its proprietary line of
BioBacksheets, made from renewable plant sources rather than petroleum, meets or
exceeds the characteristics of various testing and performance standards for the
PV industry and are expected to cost significantly less than current
petroleum-based films.
"BioBacksheet-C meets or exceeds all industry standard qualifications," said Dr.
Stanley B. Levy, Chief Technology Officer of BioSolar. "They have been tested
and passed some of the most rigorous tests of UL 1703, the Underwriters
Laboratories PV certification standard, including the damp heat test, where the
module is exposed to 85 degrees C and 85% RH for 100 hours and the wet Hipot
test, which is a measure of short circuit resistance after the module has been
submerged in water."
"BioBacksheet-C is a two component system that is highly water resistant and
contains high dielectric strength material combined with cellulosic film," added
Dr. Lee. "The substrate is a cellulosic material coated with a proprietary
material to reduce the water vapor transmission rate and to increase abrasion
resistance."
About BioSolar, Inc.
BioSolar, Inc. has developed a breakthrough technology to produce bio-based
materials from renewable plant sources that will reduce the cost per watt of
solar cells. Most of the solar industry is focused on photovoltaic efficiency to
reduce cost. BioSolar is the first company to introduce a new dimension of cost
reduction by replacing petroleum-based plastic solar cell components with
durable bio-based materials. To learn more about BioSolar, please visit our
website at http://www.biosolar.com.
Safe Harbor Statement
Matters discussed in this press release contain forward-looking statements
within the meaning of the Private Securities Litigation Reform Act of 1995. When
used in this press release, the words "anticipate," "believe," "estimate,"
"may," "intend," "expect" and similar expressions identify such forward-looking
statements. Actual results, performance or achievements could differ materially
from those contemplated, expressed or implied by the forward-looking statements
contained herein. These forward-looking statements are based largely on the
expectations of the Company and are subject to a number of risks and
uncertainties. These include, but are not limited to, risks and uncertainties
associated with: the impact of economic, competitive and other factors affecting
the Company and its operations, markets, product, and distributor performance,
the impact on the national and local economies resulting from terrorist actions,
and U.S. actions subsequently; and other factors detailed in reports filed by
the Company.
Press Contact:
Beckerman Public Relations
Eric Fischgrund, 201-465-8008
efischgrund@beckermanpr.com
or
Investor Relations Contact:
BioSolar, Inc.
Tom Becker, 877-904-3733
ir@biosolar.com
Featured Product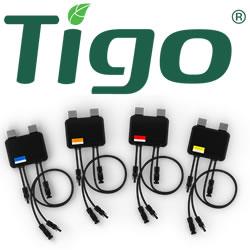 Tigo will announce the new product launch of the patented UHD-Core TS4-A (Advanced Retrofit/Add-on) Platform at SPI 2019. The new TS4-A-M (Monitoring) & TS4-A-S (Safety) units have improved lightweight hardware and lower labor costs to address a range of functions and budgets. The TS4-A-M allows module-level monitoring via Tigo's SMART Website & App. The TS4-A-S is UL-certified as a rapid shutdown solution for residential and C&I PV system. Both units join the Tigo's multivendor solution that works with almost any inverter and smart module in the global PV market. Contact sales@tigoenergy.com for pricing, shipping, and availability in Q4'19.