OPEL Solar, Inc. Awarded Treasury Payment under American Recovery & Reinvestment Act OPEL's Rooftop Tracking Solar Power System at a Connecticut School is Recognized
Shelton, CT and Toronto, ON, November 5, 2009 - OPEL Solar, Inc., a leading global developer and supplier of high concentration photovoltaic ("HCPV") and other solar products, including ground-based and rooftop tracker systems today announced that it had been awarded a $179,000 payment under the U.S. Department of Energy and the U.S. Treasury Department program which will provide up to $3 billion in direct payments to companies that create and place in service renewable energy facilities.

According to a company official, the award was in recognition of the development and successful installation of one of Connecticut's first rooftop tracking solar power systems, completed by OPEL Solar in March 2009. The system generates 131 Kilowatts (kW) of electricity to the Linden Elementary School in Plainville, Connecticut.
"The direct payment by the U.S. Treasury Department broadens OPEL Solar's ability to fund new solar projects that will create new jobs and will make inroads for clean solar energy," said Mike McCoy,
CFO of OPEL Solar, Inc. "Our investments in other solar power projects also will contribute to continued growth of the U.S. economy."
OPEL Solar also had been awarded a grant by the Connecticut Clean Energy Fund ("CCEF") for the Linden Elementary School power system. The Plainville, CT solar power installation supplies clean energy for up to 20 percent of the school's electrical power needs. It features OPEL Solar's innovative Sequoia solar tracker system (patent pending). The Sequoia design, which was inspired by the root system of the Sequoia Trees, is a non-penetrating roof design that allows for simple installation and easy disassembly for necessary maintenance.
OPEL Solar, Inc. is a subsidiary of OPEL International Inc. (TSX-V: OPL).
###
About OPEL Solar, Inc. and OPEL International Inc.
With operations headquartered in Shelton, CT and Toronto, Ontario, Canada, OPEL designs, manufactures and markets high performance concentrating photovoltaic ("HCPV") panels to transform solar energy into electricity for worldwide application. OPEL's high performance photovoltaic concentrating panels generate up to 40 percent more kilowatt-hours than conventional flat plate silicon solar panels, resulting in more cost-effective electricity generated from the sun. OPEL also markets a complete line of dual and single axis solar trackers to mount solar panels for optimum power output. OPEL also designs infrared sensor type products for military and industrial applications.
A leader in gallium arsenide and solar photovoltaic technology, the Company has been awarded 39 patents and has eight more patents pending. OPEL's common shares trade on the TSX Venture Exchange under the symbol "OPL".
For more information about OPEL Solar, Inc., please visit the Company's website at www.opelinc.com.
Dated: November 5, 2009
ON BEHALF OF THE BOARD OF DIRECTORS
Michel Lafrance, Secretary
For Further Information:
Pat V. Agudow, Vice President, Public Relations,
OPEL Solar, Inc., Tel: (203) 612-2366 Ext 2612
E-mail: p.agudow@opelinc.com
OR
Bill Blase, Cathy Loos or Stephanie Kuffner, Media Relations, WT Blase & Assocaites, Inc.,
Tel: (212) 221-1079, E-Mail: solar@wtblase.com
Featured Product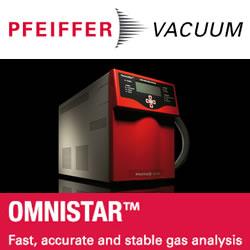 The Pfeiffer Vacuum OmniStar benchtop analysis system offers you a compact footprint, powerful software and Ethernet connectivity. It's the optimum solution for many real-time gas analysis applications. With the OmniStar, Pfeiffer Vacuum offers you a complete solution for gas analysis, in chemical processes, semiconductor industry, metallurgy, fermentation, catalysis, laser technology and environmental analysis. The turnkey OmniStar gas analysis system consists of heated, temperature-regulated gas inlet system, Quadrupole mass spectrometer, a dry diaphragm vacuum pump and HiPace turbopump. Unlike competing methods such as FTIR, OmniStar is suitable for qualitative and quantitative analysis of most gases.