Solar Panels Plus has launched the SPP-30a, the first USA-made evacuated tube (ET) collector for solar water heaters.
SOLAR PANELS PLUS LAUNCHES USA-MADE EVACUATED TUBE COLLECTOR FOR RELIABLE SOLAR WATER HEATING

New SPP-30a First Ever Evacuated Tube Collector Manufactured in the United States, Provides Compliance with Buy American Act
SOLAR POWER INTERNATIONAL - ANAHEIM, CA - October 26, 2009 - Solar Panels Plus (SPP), designer and manufacturer of innovative solar water heaters, solar air conditioning/heating systems and photovoltaic solar panels, today launched the SPP-30a, the first USA-made evacuated tube (ET) collector for solar water heaters. The SPP-30a is an important addition to the SPP product family, enabling distributors, dealers and contractors to offer a high-quality ET solution that complies with the "Buy American Act" section of the American Recovery and Reinvestment Act of 2009 (ARRA).
In addition to being the top-rated ET collector, the SPP-30a has many advantages over traditional flat plate collectors. Because the absorber is completely enclosed, evacuated tubes function in almost any environment, including cold or freezing climates. The SPP-30a is also a more powerful and efficient solar water heater, meaning it works well in environments where water temperatures up to or above 200ºF are needed or in cloudy climate conditions.
Solar Panels Plus will display the SPP-30a at Solar Panel International, America's largest solar panel conference, in booth # 2484 from Tuesday, October 27-Thursday, October 29. SPP will begin accepting orders on the SPP-30a in November 2009 for delivery in Q1 2010.
"SPP is relocating the manufacturing of the popular SPP-30 ET to the United States for compliance with the 'Buy American Act' and to create many local jobs," said John Williams, chief operating officer, Solar Panels Plus. "The SPP-30a will be the only SRCC-certified ET collector built in the United States."
Like its predecessor the SPP-30, the US-made SPP-30a will utilize a double-wall glass tube that works similarly to a Thermos bottle—where the inside can be very hot but the exterior of the container is cool to the touch—as a Thermos also uses an evacuated space between the inner and outer wall. The main difference in performance between evacuated tube and flat panel collectors is that by preventing heat from escaping back into the atmosphere as the absorber gets hot, the evacuated area of the ET collector forms a thermal barrier that allows sunlight to enter but blocks the escape of heat, which is therefore more concentrated and more efficiently harvested and used.
About Solar Panels Plus, Inc.
Solar Panels Plus is a Chesapeake, Virginia-based importer, distributor and manufacturer of solar energy products for residential and commercial applications including solar water heating, solar pool heating, and solar air conditioning and solar heating solutions. Solar Panels Plus distributes their wide range of products through a nationwide network of authorized dealers. For more information, visit www.solarpanelsplus.com
###
For more information contact:
John Williams, Solar Panels Plus, LLC. (757) 549-1494 or jwilliams@solarpanelsplus.com
Featured Product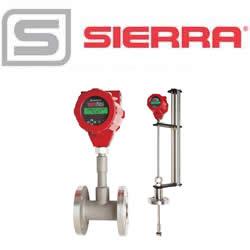 Sierra was the first to introduce a combination volumetric vortex and multivariable mass flow meter in 1997. Today, Sierra's completely redesigned InnovaMass® iSeriesâ"¢ 240i/241i builds on two decades of success measuring five process variables for gas, liquid and steam with one connection. Now, with the latest hyper-fast microprocessors, robust software applications, field diagnostic and adjustment capability, and a new state-of-the-art flow calibration facility, Sierra's vortex iSeries delivers precision, performance, and application flexibility never before possible.