Largest Ocean Energy Device Ever Deployed in U.S. Waters Will Launch in Early 2010
Ocean Renewable Power Company (ORPC), an award-winning industry leader in the development of commercially viable technology and projects that will generate clean, predictable power from river, tidal, and deep-water ocean currents, today announced it will launch the Energy Tide 2 (ET2) to demonstrate the performance of the commercial design of its proprietary Turbine Generator Unit (TGU) in Cobscook Bay, Maine early next year. ORPC (www.oceanrenewablepower.com) firmly established the technical viability of its proprietary technology during a year-long demonstration program in 2008, and expects to install the first full-scale, grid-connected tidal TGU in Maine by the end of 2010.

"Once launched, the ET2 will deploy the largest ocean energy device ever installed in U.S. waters," said Chris Sauer, president and CEO of ORPC. "We're excited to make such advancements to our unique technology, expanding our project development efforts in the nation's most promising tidal and river energy resources, and delivering the ongoing benefits of tidal energy to our host communities."
This demonstration project incorporates significant new advancements and technological innovations in the TGU, including its proprietary turbine engineered with 100 percent composite materials, its proprietary "hybrid" underwater permanent magnet generator, a TGU support frame incorporating significant use of composite materials, and a power electronics system that will convert the variable generator output to grid-compatible power.
The upcoming demonstration project will confirm ORPC's ability to generate cost-effective and reliable energy on a commercial scale with its proprietary technology and will collect important data on TGU performance and environmental characteristics.
ORPC is one of the few companies in the world to generate electricity from ocean currents without using dams or impoundments. The company holds FERC Preliminary Permits and is in the process of obtaining FERC Pilot Project Licenses for the most robust and viable tidal energy and river current sites in the U.S., including Western Passage and Cobscook Bay in Maine, as well as Cook Inlet and the Tanana River in Alaska. ORPC's tidal energy sites in Maine and Alaska are world-class tidal resources as designated by the World Energy Congress; the Tanana River is one of the most robust river sites in North America with direct access to the Alaska power grid. ORPC expects to install its first full-scale, grid-connected tidal TGU in Maine in late 2010 and first grid-connected tidal and river devices in Alaska in 2011.
About Ocean Renewable Power Company:
Ocean Renewable Power Company, LLC (ORPC) was founded in 2004 for the purpose of generating clean, predictable, competitively priced electricity from the virtually unlimited energy resources of the world's tidal, river, and deep-water ocean currents. ORPC has made significant advances in the development of its proprietary technology and is in the forefront of tidal energy development in the U.S. ORPC is developing tidal energy projects in three of America's most robust tidal energy resources: Western Passage and Cobscook Bay, Maine; and Cook Inlet, Alaska and is also developing a run-of-river project on the Tanana River in Alaska.
Featured Product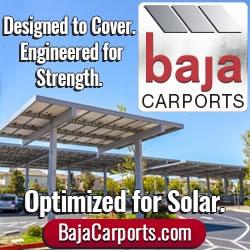 Baja Carports offers an extensive solar support system product line customized to customers' site specifications by in-house engineers, meeting their parking lot coverage, plus optimal PV production needs. Baja's Full Cantilever Tee is often paired with its Semi and Full Cantilever carports to meet live/loads up to 60psf and wind speeds to 160mph. All Baja products are pre-fabricated, bolted connections, pre-galvanized structural steel for fast on-site installation and project aesthetic requirements."