To encourage the use of renewable energy, the Portuguese Ministry of Finance has launched a funding scheme enabling all home owners to install solar hot water systems at up to half-price.
Solar installers Penguin, specialists in heating and cooling solutions, are participating in a government scheme which allows home owners in Portugal to obtain significant, no-obligation funding up to 50% towards the purchase and installation of solar hot water heating systems.

The scheme, launched by the Portuguese Ministry of Finance earlier this year, is aimed at encouraging the use of renewable energy in homes, specifically the installation of solar systems for hot water heating.
A grant of €1641,70 is available to home owners applying to the scheme, plus a tax-deductible sum up to €796.00.
Penguin director, Chris Blackburn, commented: "This scheme offers an un-missable opportunity for any home owner whose property is suitable for a solar installation. The low purchase cost, set against typical annual water heating bills, can now offer a return on investment in as little as 1-2 years. After this time, the system will provide around 80% of your domestic hot water needs direct from the sun, entirely free."
For a property to be suitable for an effective solar system, it should have a roof, terrace or an outside space which can accommodate 2 panels and which is south-facing, un-shaded and unobstructed. The grant is also available to foreign property owners, the only caveat being that they should have a Portuguese bank account and must physically be in Portugal to make the application (i.e. it cannot be made remotely).
Chris Blackburn stressed that this is a limited opportunity: "This scheme is only available until the end of the year, so we urge those interested to take immediate advantage of what is a truly excellent opportunity. There are various systems available at a spectrum of prices, but those of higher quality will offer best performance and cost-efficiency in the longer term."
Contact Penguin for further information and a free survey, to assess the suitability and best configuration for a solar system.
Featured Product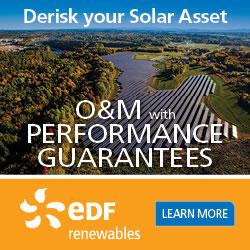 EDF Renewables offers the same innovative solutions that maximize the performance of our own 5.2 GW of installed projects. Because we're not an equipment manufacturer, our recommendations are transparent and data-driven. We cover the entire project lifecycle: from pre-commissioning support, through warranty and post warranty operation, to late stage and decommissioning.