Sales of small wind turbines are expected to soar, if new planning guidelines proposed by John Healey (Minister, Communities and Local Government) come into effect, according to turbine manufacture, Evance. Under his proposal, planning restrictions will be removed for the installation of small wind turbines on towers up to 15 metres tall on farms and industrial estates.
Small wind turbines from Evance can generate between £2000 and £3000 per year (more on particularly windy sites). The growth in generation of power by wind in the UK has in the past been limited by restrictive planning processes.

Claus Jacobsen, Sales and Marketing Director of Evance says: "This change will remove a significant hurdle in the installation process. Many people do not even start the process because they see it as over whelming. If the government is, as it says it is, backing renewable energy sources, then this will be a step in the right direction. It appears to be taking real action to speed-up and reduce the cost of installations.
"The proposal to lift planning restrictions is a welcome addition to the planned feed-in tariffs from April 2010. The new feed-in tariffs mean an Evance wind turbine will generate between £2000 and £3000 per year - more on windy sites. If you combine this with the grants available to farming and public sector installations, the payback time against the cost of a turbine is reduced to anything between three and six years. This means small wind turbines can make a real contribution to reaching the Government's target of 30 per cent of electricity generated from renewable sources by 2030."
A copy of the full report "Small-scale renewables and Low-carbon technology Non-domestic permitted development review" can be downloaded here.
- ends -
Notes to editors:
Evance is a supplier of renewable energy systems. It makes an advanced wind turbine (ISKRA R9000) for the 'small wind' market - for example, for homes, schools, and farms (as opposed to the 'big wind' market of commercial wind farms or roof mounted turbines - micro wind).
For more information or to speak to Claus Jacobsen or Peter Allen, CEO of Evance, please contact:
Kate Hartley
Carrot Communications
Tel: 020 7903 5103 or 0771 406 5233 Email: kate.hartley@carrotcomms.co.uk
Featured Product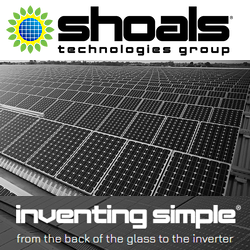 Inventing Simple® isn't just a slogan to us, it's a way of life. Using simple plug-and-play ideology, we revolutionized solar installations in 2003 with our Interconnect Systemâ"¢. Our harnessing system is now the gold standard EPC's use around the world. By using simple ideas, we are making solar energy a more affordable and clean power source for future generations.