The world's largest affordable housing solar installation by Sun Light & Power is nearing completion at the Crescent Park community in Richmond, CA.
John Reed, Media Relations

Elevator Communications, LLC
(415) 846-4862
Jreed@elevatorpr.com
The Largest, Solar-Powered, Affordable Housing
Community in the U.S. Nearing Completion
24 Buildings with 378 Family Apartments
at Crescent Park in Richmond, California
September 14 (Berkeley, CA) - The new solar installation at the Crescent Park apartments in Richmond, California is nearly completed, making this large apartment complex the largest, solar-powered affordable housing community in the United States.
EAH Housing, a nonprofit affordable housing developer and manager based in San Rafael California, contracted with Berkeley-based Sun Light and Power to provide solar power to serve 24 buildings and 378 family apartments for this large community on nearly 25 acres.
About the Solar Energy Installation
The solar installation at Crescent Park - a $7 million dollar project installed by Sun Light and Power, based in Berkeley, CA - will help reduce the production of greenhouse gases while providing lower utility costs for this large, family complex. The installation also helps the city of Richmond to meet almost 20% of its 5 MW goal for usage of solar power.
Producing nearly a megawatt of clean, renewable energy, the 908 kilowatts system includes 4323 SunPower, 210-watt modules and 180, SunPower M Series inverters.
Gary Gerber, President of Berkeley's Sun Light and Power said: "I am honored and pleased that EAH chose Sun Light & Power to build America's largest affordable housing solar project here at Crescent Park. Sun Light & Power's engineering expertise and our 33 years of experience designing and installing solar systems made us a great match with EAH, who clearly recognize that solar electricity must play a pivotal role in providing the renewable energy this country needs to reduce our environmental impact and stabilize our future energy costs."
About the Crescent Park Apartments
Crescent Park has been undergoing a $70 million restoration by EAH Housing.
EAH Housing acquired Crescent Park in 1994, and quickly moved to restore it to its former status as a valued community resource. It has since been awarded the HUD "Best Practices" Award for its Computer Learning Center, which provides access to technology to low-income residents.
"We are proud to provide solar power for all 378 apartments as part of our major rehabilitation and improvement of this important affordable housing community that has served Richmond since the 1960s," said Mary Murtagh, President and CEO of EAH Housing.
"The contributions made by EAH Housing to the city of Richmond is incalculable," said Gayle McLaughlin, Mayor of Richmond. "EAH has created an affordable housing complex that not only brings value to our city but, with its commitment to solar energy, has also taken on a stewardship role as well. We look forward to our continuing relationship with this outstanding organization."
About Sun Light and Power
Sun Light and Power was formed 33 years ago in Berkeley by Gary Gerber as one of the first solar energy companies in California. With more than 1,000 solar installations in the Bay Area and a staff of 60 + employees, Sun Light and Power prides itself on its skilled engineering staff who work with many technically-challenging projects. More information is available at: www.sunlightandpower.com or by calling: (510) 845-2997.
About EAH Housing
EAH Housing is one of the most respected nonprofit developers/managers in the western United States. With properties in 14 counties in California and Hawaii, and over 40 years of providing affordable housing, EAH Housing has developed over 5900 homes and manages 75 properties. EAH serves over thousands of families, seniors, students and persons with disabilities in California and Hawaii. EAH has regional offices in San Rafael, Fresno, San Jose, and Honolulu. More information is available at: www.eahhousing.org.
###
Featured Product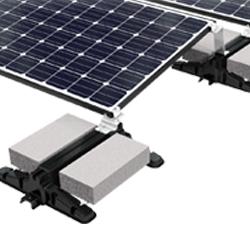 Preformed Line Products introduces the POWER MAX Ballasted Roof Mounting System. The POWER MAX solar mounting system is engineered to maximize energy output on commercial flat roofs. Developed with the professional installer in mind, this system offers adjustable inter-row spacing in the field of up to 11 inches. It features 50% fewer components and a simplified design resulting in faster assembly rates and labor savings on every project. Available in a flush mount, 5˚ or 10˚ tilt or higher density dual tilt design, the POWER MAX base arrives stacked on pallets providing easier transport to the roof. Engineered as a fully ballasted, non-penetrating system, it accepts standard concrete blocks and is qualified by wind tunnel testing.