A group of top level scientists and entrepreneurs has predicted new legislation coming into force next year will be a defining moment for solar power use in the United Kingdom.
A group of top level scientists and entrepreneurs has predicted new legislation coming into force next year will be a defining moment for solar power use in the United Kingdom.

The Government is introducing its Feed-in Tariff in April 2010 which will offer financial incentives to individuals and businesses that embrace solar energy.
Speaking at Solar Flair 09, the national photovoltaics (PV) conference, experts said the move will open the floodgates for renewable energy because it would reward trailblazers in this area.
The conference, organised by the County Durham Development Company (CDDC) on behalf of the Electronics Knowledge Transfer Network (EKTN)at Hardwick Hall in Sedgefield, heard from representatives from companies at the forefront of solar technology including QuantaSol, Sanyo, Romag, The Centre for Renewable Energy at Durham University and the Printable Electronics Technology Centre (PETEC), the UK's national flagship facility for Printable Electronics, based at the North East Technology Park (NETPark) in County Durham.
The key message to come out of the conference was that although the United Kingdom lags behind other countries with the implementation of PV appliances, this is all set to change when the Feed-in Tariff is introduced. This scheme has been implemented in countries such as Germany and Spain and has proved an overwhelming success putting these countries at the forefront of PV technology.
At present the renewable energy industry in the United Kingdom is dominated by biomass followed by wind and hydro power with photovoltaics barely making an impact as the costs are currently too high. In a survey conducted by Consett-based Romag, 100% of architects surveyed said that cost was the biggest barrier to photovoltaics. The introduction of the Feed-in Tariff makes PV technology affordable, not just to businesses, but to residential customers who want to install solar panels in their own home. The conference was told that residential customers taking advantage of the Feed-in Tariff will have no bills to pay and will not be subject to the steep price increases the UK has suffered in recent years and instead the average household will make £1,200 per annum from the Tariff.
One point raised was that countries like Spain have a lot more sunshine than the UK and that installing solar energy panels may not work so effectively over here. Speaking at Solar Flair on behalf of the New and Renewable Energy Centre, Tim Bruton said that the Earth receives 6,000 times more energy from the sun than it consumes on a daily basis. Mr Bruton went on to say that a study by the University of Northumbria for the Department of Trade and Industry claimed that if every south facing home in the United Kingdom fitted solar panels, they would generate enough electricity to meet the country's energy needs.
The Feed-in Tariff is set to expand employment in the installation sector which is why One North East has invested in a dedicated solar training centre and courses in preparation for this increased demand.
Featured Product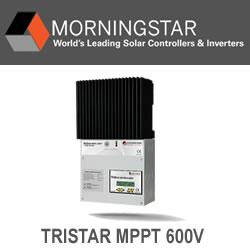 Morningstar's TriStar MPPT 600V charge controller leverages Morningstar's innovative TrakStarā"¢ MPPT technology and our 20+ years of power electronics engineering excellence, to enable the widest input operating voltage range available from a solar array, wind turbine or hydro input. This controller's standard and DB versions are for off-grid applications, and the TR versions were developed to enable retrofitting grid-tied systems with battery backup.