A new energy auditing curriculum has been developed for the U.S. Department of Interior.
This 53 credit hour program is available in modules to be partially integrated into your training or offered as a standalone curriculum in energy auditing.

Associate Level Program in Sustainable Technology: It is the job of the Career and Technical Educator to prepare their students to a high level of competency that generally requires on the job seasoning under the tutelage of an experienced professional.
This program recognizes that the current workforce does not contain enough experienced professionals to take under their wings the numbers of new Energy Auditors that the marketplace is demanding. Therefore, the 800-contact hour curriculum has been designed to produce a professional that is able to stand on their own upon graduation.
What is an Energy Auditor and why do we need them? The Greening of America's existing homes and commercial structures is about reducing our energy and water consumption, while improving our lifestyles.
It is the Energy Auditor's job to interpret data gathered through sophisticated testing and observation methods. The Energy Auditor provides the building owners with the best options for reducing water and energy consumption while protecting the health and safety of the occupants, and maintaining the building's mechanical and structural integrity.
An Energy Audit is the first step in the Greening of America's buildings, making the Energy Auditor one of the most important "Green Collar" professionals.
There is a great demand for highly trained auditors that have the capability to perform detailed inspections and make cost effective recommendations on improving efficiency.
Graduates of this program will have conferred upon them the title of CEA "Certified Energy Auditor" by the Green Mechanical Council.
To learn more call 1-800-726-9696 or attend a special training session during the National HVACR Educators and Trainers Conference, March 14-16, 2010.
Featured Product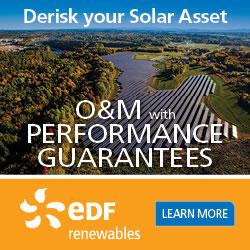 EDF Renewables offers the same innovative solutions that maximize the performance of our own 5.2 GW of installed projects. Because we're not an equipment manufacturer, our recommendations are transparent and data-driven. We cover the entire project lifecycle: from pre-commissioning support, through warranty and post warranty operation, to late stage and decommissioning.