Hurricane Wind power LLC of Virginia is set to release its new line of wind turbines that eliminate the need for the consumers to use battery banks. In the past that has been a downfall for the average user interested in using wind power.
Hurricane Wind Power LLC of Virginia is set to become a major player in the small wind generator market globally. The company has developed a line of wind generators that competes with the price range of the exploding DIY wind generators that have become so popular in recent years with wind energy enthusiasts. The DIY market has dropped off some recent months however due to the scarcity of the obsolete ametek line as well as the shortage of suitable DC motors. According to the owner Anthony Jones," as folks realize they are buying obsolete products and they will not be able to find "brushes" for the motors they have overpaid for business has really taken off.

The new line of wind generator features an all inclusive kit the eliminates the need to piece wind turbines together. The kits include blades, a high quality generator, and a built in slip ring . They have released a 500 model, with 750, and 1000 watt models being introduced at the beginning of December 2009. The products will feature 3 blades with an optional 5 blade rotor for low wind areas. The line is virtually maintenance free with the expected life of a unit being 20 years.
What really sets this line apart from the competition is that are custom matched to a direct grid tie connection to the home. For many wind turbine owners this has been a sticking point trying to figure out how to get the power into their grid. Many wind generator owners in the past have resorted to running an extension cord to a battery bank and modified sine wave inverter. The other Obstacle has been the grid tie inverters cost a small fortune. The inverters from Hurricane Windpower are pure sine wave, safe for the sensitive electronics in your home, and affordable in price.The clear advantage with these products is the power is in your grid with whatever is not used being sold back to the power company.
The 500, 750, and 1000 watt turbines will be available in 12,24, and 48 volt models with 12 volt being primarily for battery charging in small systems and the 48 volt turbines being used mostly with the grid ties.
Featured Product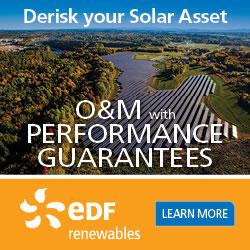 EDF Renewables offers the same innovative solutions that maximize the performance of our own 5.2 GW of installed projects. Because we're not an equipment manufacturer, our recommendations are transparent and data-driven. We cover the entire project lifecycle: from pre-commissioning support, through warranty and post warranty operation, to late stage and decommissioning.