Suntrek has announced the creation of a solar pool PPA for commercial pool operators that offers the benefits of solar energy without any upfront costs.
Owners of larger commercial pools have a common challenge - the cost of heating large amounts of water through all four seasons. The costs include not only the large amount of natural gas used, but also the cost of maintaining heating equipment under heavy use. Suntrek Industries of Irvine, California has come up with a unique opportunity for these pool operators to reduce their costs while helping the environment at no initial cost.

Solar pool heating has been a recognized method for heating pools for decades. Harnessing the power of the sun to reduce consumption of natural gas is nothing new. However, the initial costs of installing a solar pool heating system to warm thousands of gallons of water can be a challenge. This challenge has kept many pool owners from making the move to solar.
With Suntrek's unique PPA (Power Purchase Agreement), the pool owner only pays for the solar energy used to heat the pool, similar to paying for natural gas or electricity. Heat output is monitored and recorded, and a bill is prepared each month for the energy produced. One difference between paying for a solar therm versus a gas therm is that gas usage is measured before the gas is used and most gas heaters are 70% efficient or less. A solar therm is measured after it is generated, meaning that 100% of the billed energy is used.
Under the Solar Pool PPA, Suntrek owns and maintains the system for 15 years. The company guarantees that the pool owner will pay less over the life of the program. The process is simple. A Suntrek representative takes measurements and prepares an analysis showing how much gas usage can be offset by solar energy. A feasibility analysis is performed, and a proposal is generated. This shows the pool owner how much money they will save over the life of the program. Once the proposal is accepted, an agreement is drafted and the solar system is installed. The owner is then billed every month for solar energy.
"There are thousands of large pools that have to operate year-round," stated Roy Heine, CEO of the company. "We have talked to the operators of these pools and many of them, such as school districts and municipalities, don't have the budget to install a system. But if they can get a system installed at no initial cost, save money on their energy charges, and reduce the wear and tear on their traditional heating systems, it becomes a no-brainer. We are the first company in the industry to offer this arrangement."
Suntrek Industries manufactures and distributes its proprietary solar pool heating collectors through its own offices located throughout the Southwestern United States and internationally via a distribution network of pool builders and dealers. The company has been installing solar pool heating since 1991, and also offers solar hot water heating and solar electricity. For more information, call the company at 800-292-7648 or visit www.suntreksolar.com.
Featured Product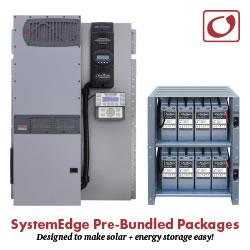 Each pre-bundled package is designed to make solar plus energy storage easy. By combining OutBack's most popular FLEXpower pre-wired systems with matched OutBack energy storage, SystemEdge takes the guesswork out of installing solar plus storage. Every SystemEdge package includes a FLEXpower factory pre-wired system, application-specific EnergyCell batteries and racking, FLEXware ICS Plus combiner and all the necessary connection hardware.