Yesterday the California Public Utilities Commission (CPUC) granted final approval to Southern California Edison (SCE) for an ambitious new rooftop solar program. Solar advocates applaud the approved plan.
San Francisco - January 22, 2010 - Yesterday the California Public Utilities Commission (CPUC) granted final approval to Southern California Edison (SCE) for an ambitious new rooftop solar program. The program will help SCE meet the state's renewable goals with distributed solar energy systems, primarily located on large rooftops throughout SCE's service territory. In total, the five-year program will add 250 MW of utility-owned solar and an additional 250 MW of competitively sourced solar from private developers.

Solar advocates applauded the SCE program as an important piece of a comprehensive suite of policies being pursued throughout California to build a strong, self-sustaining solar energy market.
Sara Birmingham, West Coast Policy Director for the Solar Alliance said, "It's exciting to see a utility affirm the value of rooftop solar generation in this way. It's even more exciting to see SCE's leadership in adopting a model for growth that includes open, competitive participation from the state's solar industry - a prospect that will help drive further green job creation and deliver lower costs to ratepayers."
Kevin Fox of the law firm Keyes & Fox LLP continued, "This program is the culmination of many months of work from the CPUC and an incredibly diverse array of stakeholders who were committed to driving an exciting new area of solar opportunity - smaller systems that feed our shared energy grid. Yesterday's decision was the starting gun for serious growth in this sector. I expect to see a new wave of solar development begin in earnest as a result."
Adam Browning, Executive Director of Vote Solar added "This program opens an exciting new market opportunity for quick and cost-effective growth in the solar sector, creating new jobs and eliminating carbon emissions. We believe this is just the tip of the iceberg—we are working to expand similar programs, targeted to solar wholesale distributed generation, throughout California and in other states as well."
Most California utilities, including SCE, are required to procure 20 percent of their electricity from renewable energy sources like solar by 2010, and Governor Schwarzenegger has issued an executive order to increase the RPS to 33% by 2020. To date, the utilities have primarily focused on central-station (10-500 MW) solar power plant development to meet their renewable requirements. While large-scale solar progress continues, smaller systems that fit into the existing distribution grid offer another path for bringing solar quickly online. SCE's program is specifically designed to spur growth in that distributed market, primarily through rooftop projects of one to two megawatts in size. Northern California's largest utility, PG&E, has also submitted a similar program that is currently undergoing final review at the CPUC.
About the Solar Alliance: The Solar Alliance is a state-focused association of solar equipment manufacturers, integrators and financiers working with state administrators, legislators and utilities to establish cost-effective solar policies and programs. www.solaralliance.org
About Vote Solar: The Vote Solar Initiative is a grassroots non-profit organization working to combat climate change and foster economic development by bringing solar energy into the mainstream. www.votesolar.org
Featured Product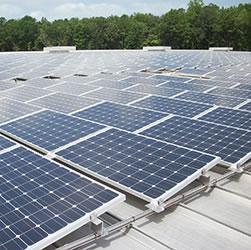 The Power Rail™ Commercial Mounting System is designed with the professional PV solar installer in mind. Both the XD/UD and LD/MD rails feature single tool assembly with the revolutionary patented RAD™ Lock-in-Place bolt for fast and secure module clamping. The high strength marine-grade aluminum rails include an integral wiring channel for securing cables and providing a professional finish.