System Provides Clean, Reliable and Affordable Power to the University
Colorado State University Dedicates One of Nation's Largest Solar Plants on a University Campus

System Provides Clean, Reliable and Affordable Power to the University
Editor's note: Photos of the facility are available with the news release at http://www.news.colostate.edu/. B-roll of the facility is also available for media use.
FORT COLLINS - Colorado State University today dedicated one of the largest solar plants at a university in the nation - a two-megawatt operation that will help the state meet goals for renewable energy and keep the university's utility rates stable and affordable over the next 20 years.
The solar power plant, owned and operated by Fotowatio Renewable Ventures, features more than 8,000 Trina Solar (NYSE: TSL) panels that cover 15 acres of the university's Foothills Campus - about three miles west of the main campus. The panels rotate to track the sun's movement.
"We are honored that Trina Solar's modules were selected for this project, which is one of the largest solar arrays at a U.S. university," said Mark Wilkerson, Senior Director of Sales & Marketing at Trina Solar. "Our high-quality products, accompanied by our cost efficient manufacturing platform, will provide Colorado State University with clean, reliable and affordable energy in any weather condition for years to come."
Each year, Xcel Energy solicits bids for solar installations to meet the solar energy mandates of the Colorado Renewable Energy Portfolio Standard, also known as Amendment 37. Colorado State partnered with Fotowatio Renewable Ventures to submit a bid to Xcel for a two- megawatt installation, which was one of three bids selected by Xcel.
The project, part of the Xcel Energy Solar Rewards program, received a rebate to offset construction costs. The project had an estimated economic impact of roughly $1.7 million from local labor, subcontractors and materials. The plant will reduce greenhouse gas emissions into the atmosphere by 5.5 million pounds - the equivalent of removing more than 480 cars off the road each year.
It's the second solar project to be announced within the Colorado State University System. CSU-Pueblo dedicated a new 1.2 MW solar array in 2008.
"This CSU solar project delivers on the Colorado promise of the 'New Energy Economy,' which is establishing Colorado as a leader in renewable energy and creating jobs throughout the state," said Colorado Gov. Bill Ritter, who spoke at the dedication today.
"Colorado State University is a leader in developing clean and renewable energy research solutions as well as setting examples on our campus," said Tony Frank, president of Colorado State University. "This solar plant and our biomass boiler, which opened last fall, together are helping to lower the costs of providing power to our Foothills facilities. Over 20 years, we expect to save the university more than $2 million in electric costs from the solar plant alone."
"By securing clean, reliable solar power through a power purchase agreement rather than major capital investment, Colorado State University will benefit from a renewable energy system that is cost-effective for years to come," said Jose Benjumea, president of Fotowatio Renewable Ventures. "This collaborative effort serves as an example of how successful public-private partnerships can help universities and other public institutions make the most of financing, including tax credits and other incentives available for solar energy."
The partners in the Colorado State project:
• Fotowatio Renewable Ventures financed, owns and will operate the solar power plant for 20 years.
• Colorado State University leased the land to Fotowatio and will purchase the electricity produced by the plant at fixed rate for 20 years, providing CSU with protection against future rate increases without any upfront costs to the University.
• Xcel Energy will purchase the Renewable Energy Credits (RECs) produced by the facility in support of Colorado's Renewable Energy Portfolio Standard, which requires large utilities to generate 20 percent of their power from renewable energy sources by 2020.
• The solar power system was designed and installed by AMEC, an international engineering and construction company, and features photovoltaic modules by Trina Solar.
• The system features a Wattsun single-axis tracking system made by Array Technologies that maximizes solar electrical generation.
• Advanced Energy, a Fort Collins, Colo., company built the inverters that convert the solar power to electricity.
The project has multiple benefits for Colorado State University. In addition to providing lower utility rates over time, the solar power plant will provide more than 10 percent of the Foothills Campus electric needs. The university also has the option to purchase the solar plant at the end of the 20-year contract for the fair market value. At that time, the university could claim the full value of the Renewable Energy Credits generated by the plant.
MEDIA CONTACTS:
January 25, 2010
Ben Delman
(703) 302-8389
bedelman@tigercomm.us
Emily Narvaes Wilmsen
Colorado State University
(970) 491-2336
Emily.Wilmsen@colostate.edu
Featured Product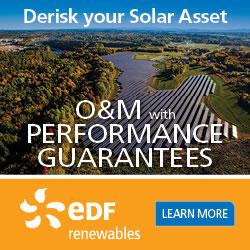 EDF Renewables offers the same innovative solutions that maximize the performance of our own 5.2 GW of installed projects. Because we're not an equipment manufacturer, our recommendations are transparent and data-driven. We cover the entire project lifecycle: from pre-commissioning support, through warranty and post warranty operation, to late stage and decommissioning.