Crossroads College Preparatory School, located in St. Louis City, earned 55 points on the U.S. Green Building Council's (USGBC) LEED Rating System, becoming the fourth facility in the St. Louis area to earn LEED Platinum and the first school in the Midwest to receive the designation.
St. Louis, Mo., Jan. 25, 2010… Already credited with leading the certification effort of two of St. Louis' LEED Platinum buildings, Vertegy recently announced that it has added another LEED Platinum facility to its award-winning portfolio. Crossroads College Preparatory School, located in St. Louis City's DeBaliviere Place neighborhood, earned 55 points on the U.S. Green Building Council's (USGBC) LEED Rating System, becoming the fourth facility in the St. Louis area to earn LEED Platinum and the first school in the Midwest to receive the designation. The William A. Kerr Family Foundation, located north of Downtown, the Alberici Headquarters Building in Overland and Novus International in St. Charles are the only other facilities in the St. Louis region to achieve LEED Platinum.

Crossroads College Preparatory School is an independent private school, serving students in grades seven through twelve. When the school was faced with expanding enrollment, the administration decided to build a new wing and remodel well-worn spaces in the school. Realizing that a sustainable design would allow them to better serve their students and the community, the school made a commitment to achieve LEED certification early on, immediately calling on Vertegy before any other design firms were chosen.
"Crossroads College Prep's commitment to creating a sustainable master plan for its campus right from the beginning really allowed this project to take shape," said Thomas Taylor, General Manager of Vertegy. "The school's administration and board truly inspired every member of the project team to come together and discover the project's full potential."
Vertegy worked with developer McCormack Baron Salazar, general contractor Lawlor Construction, TR,i Architects and engineering firm William Tao and Associates, Inc., to renovate 18,046 square feet of the main school building, which was formerly a grocery store. The team also designed and constructed a new 9,079-square-foot addition to house a new library and modern science classrooms for biology, physics and chemistry.
Specific features of the building that helped garner the Platinum certification include:
• Dual-flush water closets, pint urinals and low-flow lavatory fixtures to maximize the project's overall water savings.
• An inclusive stormwater plan, including bio-swales, a rain garden and space for a future outdoor classroom.
-more-
Vertegy Helps Crossroads Achieve LEED Certification
First and Final Add
• Use of 100 percent concrete paving instead of asphalt to minimize the heat-island effect.
• The designation of preferred parking for low-emitting/fuel-efficient vehicles.
• Permeable walkways and very limited hardscape.
• The addition of natural daylight to improve indoor environmental quality.
• A solar hot water system, which provides the majority of the hot water in the addition.
• Non-PVC-based resilient tile that includes no Volatile Organic Compounds (VOCs), and is a healthier flooring alternative.
• The incorporation of recycled materials, including the use of previously donated carpet for the library, and the diversion of more than 95 percent of the construction and demolition waste from the landfill by way of reuse and recycling centers.
The project team worked during school vacations and night shifts to complete the building in time for the 2009-2010 academic school year. Now that construction is complete and the building has successfully achieved LEED Platinum, the school intends to not only make sustainability part of its curriculum, but also an integral part of Crossroads College Preparatory School's culture. Prominently located at the main entrance, educational information about the building has been incorporated into signage visible to all visitors, staff and students, and real-time building monitoring data can be seen on a flat panel in the front lobby. To preserve the exceptional indoor air quality achieved during design and construction, the owners are also committed to the inclusion of a green cleaning management program that addresses both cleaning products and procedures.
"Through the combined efforts of the project team and the vision of the school board, Crossroads College Preparatory School has become a leading example of how sustainability can be incorporated into educational facilities," said Taylor. "More and more schools are incorporating sustainability into their curriculum and facilities, and we hope that Crossroads will inspire other schools around the country to continue that trend and make sustainability a priority."
Crossroads College Preparatory School is the 22nd LEED certified facility in Vertegy's portfolio and the fourth LEED certified educational building that Vertegy has had a hand in. The firm also consulted on the LEED Gold St. Louis Community College Campus in Wildwood, Mo.; Northland Pines High School in Eagle River, Wis., which was also certified at the LEED Gold level; and the LEED Silver Missouri Hall at Columbia College. The firm is also currently providing its sustainable consulting expertise to four other educational facilities throughout the country.
Founded in February 2005, Vertegy provides clients with design, procurement and construction consulting services for green and sustainable facilities. One of the key ways Vertegy serves clients is by helping them gain certification for their projects from various nationally and internationally recognized certification bodies, such as the U.S. Green Building Council (USGBC), which provides LEED (Leadership in Energy & Environmental Design) certification. Vertegy — which is derived from combining the Latin root for green and strategy — is based in St. Louis at the LEED Platinum Alberici Corporate Headquarters. For more information, call 314.733.2666 or visit www.vertegyconsultants.com.
Featured Product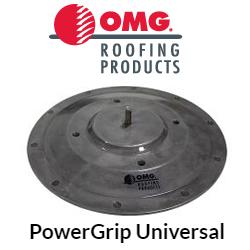 Eliminate Solar Rack Ballast and Reduce Rooftop Material Handling. PowerGrip™ Universal (PGU) is a commercial roof mount system designed to secure solar racks and other equipment to any type of commercial roofing system. PGU provides a secure connection directly to the roof deck or structural members and is designed to reduce or eliminate ballast in solar racking systems, so there's less weight on the roof and less material handling. Made of heavy-duty cast aluminum, PGU units include a base ring which is secured through the roofing cover and into the structural roof deck, and a waterproof top plate.