Agency's Renewable Energy Experience Helps Startup Raise Visibility
New Hampshire-based Calypso Communications and Washington, D.C.-based Strategic Carbon Initiative, LLC (SCI), which teamed last year to meet international demand for integrated carbon-based management and exploration, are rapidly expanding awareness of the unique carbon science and strategy firm. The new enterprise will target carbon sequestration, methane hydrate energy exploration, and the assessment of natural ecosystem attenuation potential and protocol for global oil and gas majors, private industries, and governments.

Calypso (www.calypsocom.com) was selected by SCI in August 2009 for the agency's broad experience with energy and environmental industries and its proven record in successfully developing fundable business plans for technology startup companies. Since, Calypso has completed a strategic plan and successfully engaged multiple private equity organizations in reviewing SCI's advanced technologies, business model, and operational strategy.
Working with SCI as both an equity and integrated marketing partner while leading the startup's effort to acquire operational funding, Calypso representatives and one of the founding principals of SCI will attend the RETECH 2010 conference in Washington, D.C., Feb. 3 - 5. Calypso will host an exhibit at RETECH, the nation's premier event for the renewable energy industry.
SCI will help clients address large national and international carbon credit programs utilizing strong experience with strategies for deep ocean sediment sequestration. SCI/Calypso also will be marketing methane hydrate exploration know-how to global energy majors. Methane hydrate is widely recognized as an energy source that is two to three times larger than the U.S. petroleum reserve. Finally, SCI will provide expert evaluation and assessments of the natural degradation time required to remediate contamination for commercial and residential real estate development.
Calypso's environmental clients include industry leaders in clean coal power generation, independent power, waste-to-energy, cellulosic ethanol, biodiesel, tidal power, thin-film solar, and geothermal energy.
About Calypso Communications
Based in Portsmouth, New Hampshire and with offices in Washington D.C., Calypso Communications is a premier, award-winning strategic marketing, corporate communications, and business development consultancy. Highly sought after for its seasoned insight and perspective, Calypso effectively engages stakeholders crucial to driving business and value for clients in the alternative and renewable energy, independent power, utilities, energy venture capital, and environmental technology industries worldwide. Calypso serves clientele at all levels of development in renewable energy and power generation, including natural gas, nuclear, biomass, coal, thin-film solar technology, tidal, municipal waste-to-energy, biodiesel, wind, geothermal, ethanol, and cellulosic ethanol projects. The agency's roster of clients in these fields includes Covanta, Celunol, Green Earth Fuels, HelioSphera, and GenPower. For more information on how Calypso can focus your energy and environmental communications to maximize your bottom line, visit www.calypsocom.com.
Media Contact:
Cathleen Williamson
Public Relations Director
cwilliamson@calypsocom.com
603-431-0816
Featured Product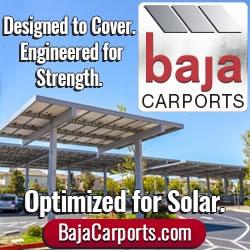 Baja Carports offers an extensive solar support system product line customized to customers' site specifications by in-house engineers, meeting their parking lot coverage, plus optimal PV production needs. Baja's Full Cantilever Tee is often paired with its Semi and Full Cantilever carports to meet live/loads up to 60psf and wind speeds to 160mph. All Baja products are pre-fabricated, bolted connections, pre-galvanized structural steel for fast on-site installation and project aesthetic requirements."