90+ National Organizations Urge Congress to Adopt Clean Energy Policies
Washington, D.C., January 29, 2010 - Nearly 100 organizations in the renewable energy, energy efficiency and environmental arenas - representing hundreds of companies and tens of thousands of workers and citizens - are joining forces to turn February 1-5, 2010, into Clean Energy Week.

The week is focused on the national imperative to enact comprehensive clean energy policy - including climate solutions, renewable energy and energy efficiency programs - as a means of creating vast numbers of new jobs, ensuring U.S. global leadership in the emerging clean energy era, enhancing our security and preserving our planet for the generations to follow.
The organizers of Clean Energy Week assert that comprehensive clean energy policy will create good American jobs while making America a world leader in clean, healthy and safe energy production. They point to an analysis from the University of California at Berkeley, which found that the clean energy legislation adopted by the U.S. House of Representatives, the American Clean Energy and Security Act (ACES), could create up to 1.9 million jobs between its enactment and 2020.
In addition, the U.S. Environmental Protection Agency has found that ACES would reduce CO2 emissions by 1 billion metric tons in 2020 alone, the equivalent to taking 200 million cars off the road for one year.
A Washington, D.C., news conference on February 1 will launch Clean Energy Week, followed by numerous workshops, rallies and outreach activities on Capitol Hill and across the nation's capital as well as breakfast, lunch and dinner gatherings and receptions. Preregistration is required for the webcast and is now available at www.visualwebcaster.com/CleanEnergy.
"Congress and the Obama Administration must take action on climate solutions, renewable energy and energy efficiency policies, which are essential engines of job creation and economic growth," said Michael Eckhart, president of the American Council On Renewable Energy. "Clean Energy Week activities will underscore this consensus."
"Rebuilding our economy and protecting our environment on a bedrock of energy efficiency and clean energy technologies is the best, and perhaps only, way for the United States to regain and sustain global economic leadership," said Kateri Callahan, president of the Alliance to Save Energy. "Clean Energy Week will showcase the economic imperative of swift enactment of comprehensive climate and energy policy."
"Business leaders from across the country are coming to Washington, D.C., to join in Clean Energy Week activities because they recognize the vital role of comprehensive climate and energy legislation in spurring innovation, creating new jobs and helping American businesses compete and lead in the global marketplace," said Jeff Anderson, executive director of the Clean Economy Network, Inc.
"We can't resolve climate change without building a clean energy economy to ensure the competitiveness of U.S. business in a global marketplace," said Earth Day Network President Kathleen Rogers. "Clean Energy Week is a way of amplifying and strengthening our urgent message to Congress - pass comprehensive climate legislation that caps carbon emissions and promotes sustainability by Earth Day, April 22, 2010."
"We can rebuild our economy and create jobs by fostering investments in energy efficiency, limiting carbon emissions and shifting to clean energy sources," said Ralph Cavanagh, senior attorney and co-director at the Natural Resource Defense Council's Energy Program. "It's never been clearer that American ingenuity and investment in clean technologies can be a driving force for economic growth, energy independence and environmental protection. Americans want to address our energy and climate challenges. Now we just need our nation's leaders to act."
Reed E. Hundt, co-chairman of the Coalition for the Green Bank added, "As the president made clear in his State of the Union address, a focus on green jobs is the immediate focus for the clean energy sector, and in fact by promoting the double whammy of clean energy generation and transmission along with energy efficiency, literally millions of fine new jobs can be created over the next several years."
"Now more than ever, America's working families want Congress to vote for new laws and programs that will create good jobs that will help all of us save on our energy bills and preserve our energy independence," said Chris Chafe, executive director of Change to Win. "America's unions are committed to partnering with political, environmental and business leaders to create jobs and solutions that drive climate and economic recovery."
American Businesses for Clean Energy Director Christopher Van Atten said, "We are very pleased to lend our support to the important Clean Energy Week campaign. The rapid increase in business flocking to ABCE sends a powerful signal to Congress of the strong support for meaningful and effective legislation that will drive clean technology innovation, create jobs, and address the threat of global climate change."
"I invite every climate, energy efficiency and renewable energy organization in the United States to participate in Clean Energy Week," said Chip Comins, president of ARE Day and coordinating producer of Clean Energy Week. To get involved, please contact CComins@rof.net.
Further details on participating in Clean Energy Week are on the CEW website at http://www.cleanenergyweek.org/.
Featured Product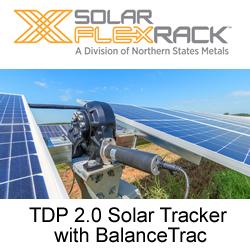 Solar FlexRack's latest solar tracker technology bundles an advanced tracker design with a full team of seasoned engineering and installation experts at your service. The next-generation solar tracker delivers a package of features that both enable increased energy yields for commercial and utility-scale solar installations, and significantly reduce project risks. That translates to smart installation cost-savings across your project budget.