Boots on the Roof, the nationwide leader in renewable energy training, is now offering a Master Certificate in Renewable Energy program.
FREMONT, CALIFORNIA - (February 19, 2010) - Are you interested in a green career in the renewable energy field? If so, there is now a way to set yourself apart from others and get ahead. Boots on the Roof, the nationwide leader in the field of renewable energy training and education, is now offering a Master Certificate in Renewable Energy program. The program will focus on three main areas in renewable energy, providing attendees with a well-rounded training experience.

"More jobs now focus on the green sector, and those with the right skills and training will find it easier to compete and succeed in that market," explains Navraj Bawa, executive vice president of Boots on the Roof (www.bootsontheroof.com). "Our Master Certificate program helps prepare someone to steer their career in a green direction."
The Master Certificate in Renewable Energy program will be comprised of:
• 6-Day Solar Thermal Boot Camp - focusing on the fundamentals of design and installation of solar water-heating systems.
• 6-Day Solar PV Boot Camp - covering solar-electric system design, installation, and safety procedures, as well as business and industry topics.
• 5-Day Wind Energy Boot Camp - concentrating on the design and installation of wind energy systems, including assessment, safety, installation, and troubleshooting.
The program is ideal for anyone interested in adding renewable energy sources to their list of specialties, or those wanting to learn more about the field, including general contractors, plumbers, builders, business owners, environmentalists, electricians, construction workers, engineers, and green-energy educators.
The set of three training classes is offered in Fremont, Calif., where Boots on the Roof is located. The next classes start in April 2010 and are being offered at 30 percent off the regular tuition rate. For updated classes dates and pricing, visit the site at www.bootsontheroof.com.
"This intense training program offers people a chance to become specialists in a field that is rapidly growing and may very well dominate in the future," says Bawa. "Renewable energy is where it's at, and this program helps you get there."
About Boots on the Roof:
Boots on the Roof is a Fremont, Calif.-based, renewable-energy education facilitator. Their programs, which are five- or six-day boot camps, focus on solar thermal training, solar PV training, and wind energy training. All programs are taught by experts in the field. Their goal is to train and certify green-collar workers in a wide variety of settings for a renewable energy career. To learn more about Boots on the Roof, visit the Web site at http://www.bootsontheroof.com.
Featured Product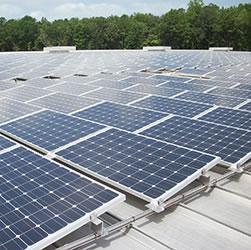 The Power Rail™ Commercial Mounting System is designed with the professional PV solar installer in mind. Both the XD/UD and LD/MD rails feature single tool assembly with the revolutionary patented RAD™ Lock-in-Place bolt for fast and secure module clamping. The high strength marine-grade aluminum rails include an integral wiring channel for securing cables and providing a professional finish.