If passed, legislation would threaten Arizona's growing renewable energy industry, lead to elimination of thousands of existing and future jobs
PHOENIX, Ariz., Feb. 23, 2010— SolarCity, Kyocera Solar, Inc. and Suntech Power joined with other solar energy providers to warn that if Arizona House Bill 2701 (HB 2701) is passed into law, it would jeopardize Arizona's entire renewable energy industry. HB 2701 proposes to replace the existing Renewable Energy Standard (RES) in Arizona with one that would allow utilities to use existing nuclear and hydroelectric power to meet the RES requirements, eliminate distributed generation requirements within the bill and eliminate any interim requirements between now and 2025. The bill also sets up a far more burdensome regulatory scheme for solar companies and utilities, replacing the current system of regulation by the Arizona Corporation Commission with a "double regulation" approach that includes the Arizona State Legislature. If the bill passes, Arizona will have more government regulation of solar companies and utilities than any other state. The bill's inclusion of non-renewables in the definition of renewable energy, new "double regulation" and other changes to the RES would likely halt all new renewable energy development in the state, undercut one of Arizona's fastest growing industries and put thousands of existing and future jobs in jeopardy as the state's economy recovers from the effects of the recession.

"HB 2701 would create a situation where solar companies and utilities have to answer to two elected bodies of government," said Lyndon Rive, SolarCity's CEO. "This 'double regulation' by both the ACC and then the Legislature will be both confusing and cost prohibitive. In addition, allowing existing nuclear and hydroelectric power facilities to satisfy Arizona utilities' renewable energy requirements would freeze the development of renewable energy projects indefinitely and put Arizona's entire renewable energy industry at serious risk. If HB 2701 is passed into law, it would shut down many solar companies in the state."
"Passage of this bill will force us to reconsider our decision to put a factory in Arizona, moving those jobs and the accompanying tax base to another state," said Steve Chadima, vice president of external affairs for Suntech Power Holdings. Suntech, the world's largest manufacturer of crystalline silicon solar modules, recently announced it would select Goodyear, Ariz., for its first U.S. factory.
"Since 1999, when Kyocera established its U.S. Solar headquarters in Arizona, we have been working with the state of Arizona to develop and encourage the adoption of solar energy. The passage of HB2701 would be a major setback in the pursuit of greater energy independence," said Tom Dyer, senior vice president of Kyocera Solar, Inc. "It undermines our effort and progress made to create green jobs, and would be a major setback to Arizona's reputation as a solar industry leader. Quite simply, this bill does not support growing the local economy, nor does it assist in protecting the environment."
"Make no mistake, this bill massively grows government influence on private business," said RL Brown, CEO of RL Brown Reports in Phoenix, and one of Arizona's leading experts on housing and economic development. "It is surprising that this small-government inclined Legislature is calling for more, not less, governmental regulation."
Arizona is one of the best environments for solar electricity production in the country due to its abundant, year-round sunlight. Arizona's state government has worked extensively to attract renewable energy companies to the state. As a result of those efforts, a number of leading solar companies have expanded to and within Arizona, creating new jobs to replace those recently lost in construction, real estate and other industries. In addition to putting solar jobs in jeopardy, HB 2701 would likely ensure that Arizona would be eliminated from consideration for the billions of federal dollars currently available to spur investment and growth in renewable energy. The legislation would also hurt small businesses in Arizona by eliminating one of the only growth sectors for the state's electrical contractors. The text of the bill is available at the following link: http://www.azleg.gov/DocumentsForBill.asp?Bill_Number=HB2701.
 
About SolarCity
SolarCity—a national leader in solar power system design, financing, installation, monitoring and related services—was founded with the mission to help millions of homeowners and businesses adopt solar power, protect themselves from rising electricity costs, and protect their environment from polluting power sources. The company's SolarLease® and Solar Service Agreement options can make it possible for homeowners and businesses to switch to clean, solar power for less money than they currently pay for electricity. SolarCity currently serves 1,000 communities in Arizona, California, Colorado and Oregon. Additional information about the company is available on the Web at www.solarcity.com.
About Kyocera Solar
Kyocera Solar, Inc. (http://www.kyocerasolar.com) is a world-leading supplier of environmentally sound, solar electric energy solutions. With operating headquarters in Scottsdale, Ariz. and regional sales centers in the U.S., Brazil and Australia, Kyocera Solar, Inc. serves thousands of customers in both developed and developing regions. The company is a wholly-owned subsidiary of Kyocera International, Inc. of San Diego, the North American headquarters and holding company for Kyoto, Japan-based Kyocera Corporation.
Media Contacts
Jonathan Bass
SolarCity
650-963-5156
jbass@solarcity.com
Featured Product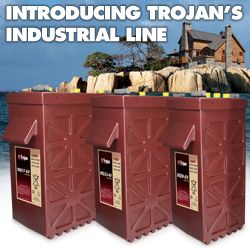 Trojan's deep-cycle batteries provide rugged durability, outstanding performance and long life for use in all types of solar energy installations. With over 90 years of experience, Trojan delivers the world's most reliable and trusted batteries in flooded, AGM, Gel, and Lithium types. These batteries enable solar equipment systems to operate at a peak level of performance in the harshest conditions or the most challenging of locations and are manufactured and tested to IEC standards.