Thin Film Solar System Enables Uninterrupted AC and WiFi Without High-pollution Engine Idling
SAN JOSE, Calif., Feb 26, 2010 -- SunPods Inc., a California-based manufacturer of modular, fully integrated and tested solar power generation systems, today announced the industry's first solar power-assist system for buses.

The SunPods Sun Bus Power System™ was developed in less than six weeks in collaboration with Bauer Intelligent Transportation, a leading provider of chauffeured green transportation, to enable the company's fleet to meet the strict anti-pollution standards set by the State of California.
SunPods' modular solar power assist system consists of four thin film solar panels that run the length of the bus and charge an on-board battery bank. When the bus engine is off, the batteries power the air-conditioning and wireless connectivity equipment, enabling transportation companies to effectively meet anti-idling standards without compromising passenger comfort.
SunPod's solar power-assist system has been in operation on a Bauer IT bus, undergoing testing since January 2010. A prototype will be on display at the Cleantech Open National Launch in San Francisco on February 26, 2010.
"We support the state's strong commitment to reducing pollution. At the same time, as a transportation provider, we wanted to meet our customers' requirements for comfort and connectivity," stated Gary Bauer, founder and owner of Bauer's Intelligent Transportation. "SunPods was able to make our vision a reality in less than 6 weeks. We've been testing the bus for the past 4 weeks and we're impressed with the reliable performance."
In an effort to meet air pollution standards, since 2008 California state law has prohibited diesel vehicles from idling for more than five minutes. More than 25 states across the United States now have anti-idling laws.
"We are really pleased to collaborate with an innovative company like Bauer IT," said Dan Jaeger, president and co-founder of SunPods. "As a company, our focus is on reducing installation costs to make solar power more cost-effective and, thereby, increase adoption. With Bauer IT's support, we have created a solar power assist system for luxury buses across the US."
About SunPods Inc.
Headquartered in San Jose, California, SunPods is expanding the solar power generation market by delivering modular, self-contained solar arrays. SunPods' units are pre-engineered, pre-manufactured and pre-tested in a rigorous factory setting, making them ready to power up on delivery. For more information visit www.sunpods.com. For more information about the solar power-assisted bus, contact Lisa Schmidt, Director of Marketing, at lisa.schmidt@sunpods.com or (408) 689-2446.
About Bauer's Intelligent Transportation
Bauer's Intelligent Transportation is one of the nation's leading providers of chauffeured ITransportation ® services. Bauer's is leading the green initiative within the limousine industry while still maintaining comfort and elegance as a full service transportation company. Bauer's commitment is by example, moving over 5,000 people a day with over 96% of the miles being green miles. For more information visit www.bauersit.com or contact Lon Baylor at lonb@BauersIT.com or 1-800-546-6688
Featured Product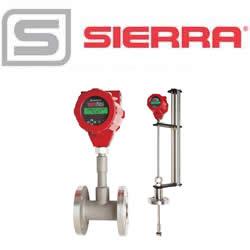 Sierra was the first to introduce a combination volumetric vortex and multivariable mass flow meter in 1997. Today, Sierra's completely redesigned InnovaMass® iSeries™ 240i/241i builds on two decades of success measuring five process variables for gas, liquid and steam with one connection. Now, with the latest hyper-fast microprocessors, robust software applications, field diagnostic and adjustment capability, and a new state-of-the-art flow calibration facility, Sierra's vortex iSeries delivers precision, performance, and application flexibility never before possible.