Responding the Ontario Green Energy Act's MicroFIT program, Home Energy Solutions has developed a solar system package for farm sheds and barn configurations.
Home Energy Solutions Develops Unique Solar System Package for Ontario Farmers

Barrie, ON March 1, 2010 - Responding the Ontario Green Energy Act's MicroFIT program, Home Energy Solutions has developed a solar system package for farm sheds and barn configurations. With the solar system installed Ontario farmers can start earning extra income by using large areas of untapped real estate; their roof tops.
The unique fitted solar systems make large shed and barn rooftops ideal for capitalizing on the 20 year MicroFIT contracts. Farmers with roofs 1000 square feet in area, facing between SE and SW, can take full advantage of the system. Home Energy Solutions will install its unique panel configuration to a high efficiency inverter, which displays and records power generation as it is sold back to the OPA grid.
Through the MicroFIT program, farmers can receive $0.80 per kilowatt hour (kWh) produced. The farm sized 10 kW rated solar system will deliver over $11,000 worth of electricity per year, and costs less than $80,000. MicroFIT contracts are valid for 20 years, so net revenue generated over the program should exceed $220,000. For Ontario farmers wary of the initial investment, Home Energy Solutions is offering an attractive financing package that can generate cash flow immediately after installation.
The Home Energy Solution solar system offers a variety of mounting options so they can be secured to any surface type, ranging from slopped mount, vertical mount, or ballasted mount. The installations also maintain a sleek profile and boast a 25 year warranty, featuring leading industry brands and equipment.
Although the MicroFIT program is open to anyone in Ontario, farmers have the distinct advantage to earn income off large unused roof space; allowing them to put their roofs to work to pull in extra income, regularly. See www.solarforfarms.ca for financing programs and installation information.
About Home Energy Solutions
Award-winning Home Energy Solutions is Canada's premier provider of renewable solar energy systems. Founder and President David Egles is one of Canada's leading solar experts with over 20 years experience at the helm of several nationally prominent solar companies and past President of the Canadian Solar Industries Association (CANSIA). More info call Toll Free: 1.866.258.0110 or visit www.heshomeenergy.com
Featured Product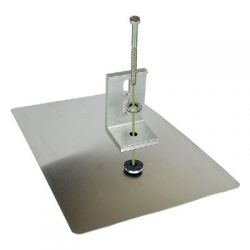 The GreenFasten™ - GF1 system utilizes the patented watertight technology EcoFasten Solar® is known for. The flashing is fit with our EPDM rubber bushing and when used with a compatible EcoFasten Solar compression bracket (milled with countersink), a watertight seal is created, which protects the integrity of the roof. Requiring just a single fastener (lag bolt or self-drilling), GreenFasten provides the fastest install in the industry and will not void roofing manufacturer's warranties. Backed by IAPMO certification, GreenFasten delivers a mounting solution for all new or existing (retrofit) composition shingle roofs, and is the most cost-effective solution available. Like all of the solar roof mount solutions in our line of products, GreenFasten is made in the USA using recycled materials.