Third SolarCity/U.S. Bancorp fund will finance residential and commercial solar installations in Arizona, California, Colorado, Oregon and Texas; fuel further expansion in 2010
FOSTER CITY, Calif., March 2, 2010—SolarCity®, a national leader in solar power system design, financing, installation, monitoring and related services, today announced a new fund to finance an additional $90 million in commercial and residential solar projects in 2010 with U.S. Bancorp Community Development Corporation (USBCDC), a division of U.S. Bancorp (NYSE: USB). SolarCity and USBCDC have now collaborated on three separate funds to finance a total of $190 million in solar projects in the U.S. in 2009 and 2010.

"We started this company with the simple belief that if we made solar power as affordable and accessible as other energy sources, we could make it a mainstream source of electricity," said Lyndon Rive, SolarCity's CEO. "Partners like U.S. Bank are making it possible for SolarCity to keep pace with demand, and helping us toward our ultimate goal of making an affordable clean power option available nationwide."
SolarCity will use the new fund to finance its solar lease (SolarLease™) and power purchase agreement (PPA) offerings as it continues to expand to new states. SolarCity's financing options make it possible for customers to save money immediately by installing solar, because homeowners are not required to put any money down and typically save more on their monthly electricity bills than they pay for solar each month. SolarCity's offerings include custom design and installation, insurance, repairs, production monitoring and guaranteed performance; all for a monthly payment that can be as little as $30 per month in some areas. CBS Evening News called SolarLease "a bright idea that can save you a bundle" in October, USA Today called it "a way to bring solar to the masses" in November, and Scientific American hailed it as one of twenty "world-changing ideas" in December.
The new USBCDC fund will allow SolarCity to continue extending its offering to new parts of the U.S. The company expanded to Colorado in December and Texas last week and now serves five states including Arizona, California and Oregon. Businesses and homeowners interested in SolarCity's zero-down financing options can contact the company directly at 1-888-SOL-CITY (1-888-765-2489). Homeowners interested in SolarLease can estimate their solar lease payment and potential electricity savings by using SolarCity's solar calculator, available online at www.solarcity.com.
About U.S. Bancorp Community Development Corporation
With assets of over $6.3 billion, USBCDC finances community development and affordable housing projects through the use of New Markets Tax Credits, Historic Tax Credits, Low-Income Housing Tax Credits, and Investment Tax Credits in Renewable Energy. USBCDC is the largest New Markets Tax Credit investor in the country, investing billions of dollars nationwide in hundreds of transactions. These equity investments have provided much needed revitalization and new resources to communities throughout the country. USBCDC is a subsidiary of U.S. Bancorp (NYSE: USB), with $281 billion in assets, and U.S. Bank, the fifth largest commercial bank in the United States. The company operates 3,015 banking offices in 25 states and 5,148 ATMs and provides a comprehensive line of banking, brokerage, insurance, investment, mortgage, trust and payment services products to consumers, businesses and institutions. Visit U.S. Bancorp on the web at www.usbank.com.
About SolarCity
SolarCity—a national leader in solar power system design, financing, installation, monitoring and related services—was founded with the mission to help millions of homeowners and businesses adopt solar power, protect themselves from rising electricity costs and protect their environment from polluting power sources. The company's SolarLease™, PurePower™ and Commercial Power Purchase Agreement (PPA) options can make it possible for homeowners and businesses to switch to clean, solar power for less money than they currently pay for electricity. SolarCity currently serves more than 1,000 communities in Arizona, California, Colorado, Oregon and Texas. Additional information about the company is available on the Web at www.solarcity.com.
Media Contacts
Jonathan Bass
SolarCity
(650)963-5156
jbass@solarcity.com
Emily Douglas
A&R Edelman for SolarCity
(650) 762-2945
emily.douglas@ar-edelman.com
Lisa H. Clark
U.S BanK Media Relations
(608) 877-7517
lisa.clark2@usbank.com
# # #
Featured Product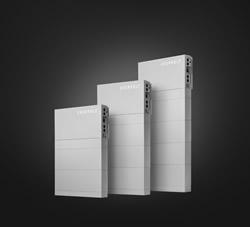 Extract maximum power production from every roof size and shape. HIT® AC Series combines the module efficiency of Panasonic solar panels with the intelligence of Enphase microinverters. A built-in IQ 7X microinverter with Individual MPPT (Module-level Power Point Tracker) tracking helps deliver an all-in-one module that offers design flexibility, reduced installation time, and a higher ROI. Field-replaceable microinverter with no DC wire management required yields lower cost of ownership.