The 2nd Algae World Europe conference in Brussels addresses the 4 key pillars of algae commercialization, and explore the biology, engineering, marketing and financial aspects of the algae value chain. Panel of industry experts will also share their views on Algae for biofuels and high-value co-products like pharmaceuticals, nutraceuticals, cosmetics, aquaculture feed, bioplastics, coatings, etc. The program includes a site visit to see up-close the running of a fully operational commercial algae production and processing facility.
Brussels, Belgium (PRWEB) February 15, 2010 -- The 2nd Algae World Europe conference will meet in Brussels on 22-23 April 2010 to shed light on developing a sustainable algae commercialization model. The event is the 4th in the series of Centre for Management Technology's (CMT) Algae World conferences series which provide a vantage view on the entire algae value chain and its commercial viability, as well as spotlight on algae's diversity and multiple co-products. Successfully held in Singapore, Rotterdam and Bangkok since 2008, Algae World is recognized as an important platform for productive exchanges among the Academic, Commercial and Investment community.

Supported by extensive research with industry stakeholders, the 2nd Algae World Europe has identified and incorporated the 4 key pillars of successful algae commercialization into the conference topics agenda:
1. System Optimization for Large-scale Algae production
2. Improving Algae Productivity and Processing Efficiency
3. Development of High Value Co-products
4. Promise and Reality of Algal Biofuels
Top industry executives from leading algae producers like Cyanotech (USA), Seambiotic (Israel), Alpha Biotech (France), SBAE Industries (Belgium) will be sharing views on algae cultivation and production systems, specifically touching on production economics, cultivation parameters, process integration, carbon capture, recycling of industrial effluents and up-scaling. Speakers representing Proviron (Belgium) and Culturing Solutions Inc. (USA) will offer a glimpse into the breakthroughs they have achieved in their production tools.
The 2nd Algae World Europe also provides an objective review of the conversion technologies for producing high value co-products touted as the key intermediate step for large-scale algae commercialization. Considered as the 'factories of the future', algae contains proteins, lipids, carbohydrates and nucleic acids, which have many applications including Biodiesel, BioEthanol, Bio-jetfuel, Nutritional Supplements, Nutraceuticals, Pharmaceuticals, Aquaculture Feed and Animal Feed, Coatings, Bioplastics, Biochemicals, Fertilizers and Cosmetics.
There is also a one day focus on Algal Bioenergy at the conference, and a key representative of the European Commission will address the regulatory view on Algae as a feedstock of choice for the European Biofuel industry in a key session. Capricorn Venture Partners n.v. will also offer pointers on how to raise funds for algal biofuels project. Sessions will also explore the different routes to commercializing algal biofuels.
Other sessions on the agenda will cover advances in biotechnology to improve algal productivity, as well as harvesting and processing efficiency. The program ends with a site visit to SBAE Industries' new indoor and outdoor algae production and processing facility.
The 2nd Algae World Europe expects sets to attract an even mix of representatives from the academic, commercial and investment community to build meaningful links and collaborations.
In conjunction with the event, CMT is also launching the Algae World 2010 Industry Survey to find out where the industry stands and identify critical gaps in knowledge. All algae industry stakeholders are encouraged to participate and share your views in this survey. (http://www.surveymonkey.com/s/KFYDZ6S)
2nd Algae World Europe will cover algae for biofuels and its co-products including nutraceuticals, aquaculture feed, cosmetics and more. Those keen on finding out more about algae production and its high-value products, please contact Ms. Nadia AlBahar.
ABOUT 2nd Algae World Europe
2nd Algae World Europe offers a view into Algae beyond the hype and hyperbole to uncover the facts and hard science behind algae production and commercialization. The interaction of the scientific and business minds at the international conference is aimed at propelling the algae industry to the next level.
Featured Product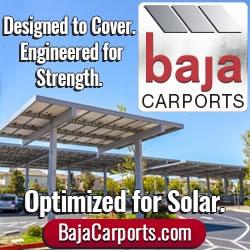 Baja Carports offers an extensive solar support system product line customized to customers' site specifications by in-house engineers, meeting their parking lot coverage, plus optimal PV production needs. Baja's Full Cantilever Tee is often paired with its Semi and Full Cantilever carports to meet live/loads up to 60psf and wind speeds to 160mph. All Baja products are pre-fabricated, bolted connections, pre-galvanized structural steel for fast on-site installation and project aesthetic requirements."