Funding partnership makes it easier for commercial customers to purchase solar power generation.
SunPods, Inc has successfully obtained a source of financing for their commercial customers in the way of a newly formed relationship with Capital Funding Group (CFG) of Bellevue, WA. CFG has developed multiple solutions for providing capital, including a short term option to allow commercial customers to "monetize" the Federal ITC when taken in the form of the available grant. This option allows the customer to secure 70% (or less) of the overall project cost in the form of long term financing, and the 30% grant in a short-term (60-90) facility.

About Capital Funding Group
CFG has over 14 years of commercial finance experience and has become very aggressive in their ability to provide capital for viable renewable energy projects, focusing primarily on Solar PV. CFG has national funding capabilities and is able to finance projects in all 50 U.S. states. For more information regarding the solutions offered by Capital Funding Group, please contact Ken Meyer at (425) 732-2987 or KenM@CapFunded.com
About SunPods Inc.
Headquartered in San Jose, California, SunPods is expanding the solar power generation market by delivering modular, self-contained solar arrays. Site preparation is minimal and there is no on-site assembly. SunPods' units are pre-engineered, pre-manufactured and pre-tested in a rigorous factory setting making them ready to power up on delivery. Corporate headquarters are located at 1922 The Alameda, Suite 214, San Jose, California 95126. Website: www.sunpods.com For more information about SunPods, please contact Lisa Schmidt at Lisa.Schmidt@sunpods.com or (408) 689-2446
Featured Product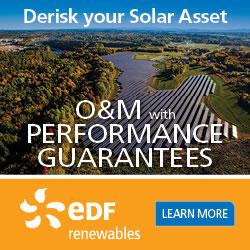 EDF Renewables offers the same innovative solutions that maximize the performance of our own 5.2 GW of installed projects. Because we're not an equipment manufacturer, our recommendations are transparent and data-driven. We cover the entire project lifecycle: from pre-commissioning support, through warranty and post warranty operation, to late stage and decommissioning.