Thomas P. Kimbis named as the new Director of Policy and Research, and General Counsel.
For Immediate Release

March 15, 2010
SEIA Appoints Kimbis as Director of Policy and Research, General Counsel
WASHINGTON, DC - The Solar Energy Industries Association (SEIA) announced today that it has hired Thomas P. Kimbis as its new Director of Policy and Research and General Counsel. Kimbis will help lead the development of long-term policies promoting solar energy and oversee expansion of SEIA's market research efforts. He will also provide legal services to SEIA as General Counsel.
"I am excited to join the excellent team at SEIA. As the solar industry continues to expand and mature, SEIA will play an increasingly important role in removing barriers to this growth. I look forward to contributing to solar's continued success," Kimbis said.
"Tom has been one of the most influential leaders in the U.S. solar industry for several years and SEIA is happy to welcome him to our growing team," Rhone Resch, SEIA president and CEO, said. "Tom's expertise will be invaluable in SEIA's efforts to expand the market for solar energy in the United States, which will result in new jobs and economic opportunities in all 50 states."
Kimbis most recently served as Executive Director for The Solar Foundation, a nonprofit promoting the increased use of solar energy through education and research.
From 2005-2009, he served as Director of Market Transformation for the Solar Energy Technologies Program (SETP) at the U.S. Department of Energy (DOE). While there, he led efforts to maximize opportunities for solar energy commercialization. He also served as Acting Program Manager of SETP, managing a $170 million portfolio.
While at DOE, Kimbis was a founder of the Solar America Initiative, a billion-dollar effort to accelerate solar commercialization. Kimbis also helped to create the Solar America Cities program, a DOE partnership with 25 cities and more than 180 organizations designed to develop innovative methods for the adoption of solar energy technologies. Prior to his work in solar, Kimbis headed a DOE legislative team, founded and led a real estate investment firm, and practiced litigation for a multinational law firm.
He is a graduate of Williams College and the University of Virginia School of Law. Kimbis also maintains a Certificate in Public Leadership from the Brookings Institution and a Certificate in Excellence in Management from the American Management Association. He is a member of the Executive Committee of the Society of Alumni of Williams College.
###
About SEIA:
Established in 1974, the Solar Energy Industries Association is the national trade association of the U.S. solar energy industry. As the voice of the industry, SEIA works with its 1,000 member companies to make solar a mainstream and significant energy source by expanding markets, removing market barriers, strengthening the industry and educating the public on the benefits of solar energy.
SEIA Online:
Learn more - http://www.seia.org
Follow SEIA President & CEO Rhone Resch on Twitter - http://twitter.com/RhoneResch
Watch SEIA on YouTube - http://www.youtube.com/thesolarindustry
Become a Facebook fan - http://www.facebook.com/pages/Solar-Energy-Industries-Association/112495296809
Read the Solar Bill of Rights - http://www.SolarBillofRights.org
Media Contact:
Monique Hanis, 202.556.2885, mhanis@seia.org
Jared Blanton, 202.556.2886, jblanton@seia.org
Mark Sokolove, Tigercomm, 703.302.8382, mark@tigercomm.us
Featured Product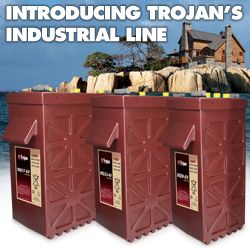 Trojan's deep-cycle batteries provide rugged durability, outstanding performance and long life for use in all types of solar energy installations. With over 90 years of experience, Trojan delivers the world's most reliable and trusted batteries in flooded, AGM, Gel, and Lithium types. These batteries enable solar equipment systems to operate at a peak level of performance in the harshest conditions or the most challenging of locations and are manufactured and tested to IEC standards.