Mission NewEnergy, a biodiesel refiner and Jatropha plantation company, has received approval from the Ministry of Finance, Government of India, for further capital investment into its Indian feedstock business.
The company will also carry on with the original approved activity of being engaged in the contract farming of Jatropha Curcas and utilization of the Jatropha oil for domestic or export markets.

Nathan Mahalingam, managing director of Mission NewEnergy, said: "This affirmation confirms the Indian governments support for the development of the Jatropha industry and the leadership role that Mission is playing in the further development of the industry.
Featured Product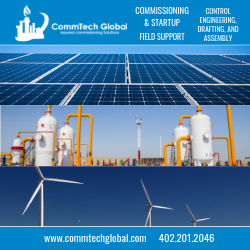 CommTech Global Solutions, LLC, provides professional and reliable commissioning services to customers in all realms of the energy industry. We blend our skills in engineering and technology with innovative business models, offering a complete range of services to assist you for a successful and in compliance operational startup. Consolidation of all our service domains gives our clients a comprehensive set of expertise and far-reaching experience on each project.