The Boulder Country Club was able to take advantage of a unique opportunity to finance the installation cost of a solar system to help them become more efficient and save money on operating costs.
FOR IMMEDIATE RELEASE

BOULDER - Without putting any money down, the BCC was able to have a solar energy system
installed on the south roof of the Tennis Facility by Lighthouse Solar of Boulder, CO.
The 100 kW Photovoltaic array is estimated to offset 25% of the building's electrical
load and start the trend for greening the club's facilities. The Boulder Country Club
entered into a Power Purchase Agreement (PPA) with Lighthouse Solar and
Lighthouse Finance to install, own, and maintain the system for the BCC. A PPA is a
way of financing solar installations by paying for the system through the purchase of
the solar electricity generated by the system. Boulder Country Club's President,
Mike Freece commented "This is a great opportunity for the Boulder Country Club to
finally take advantage of the large southern roof of the tennis facility, lock in our
utility rates and do our part to reduce the Club's carbon footprint. We would like to
do more projects with Lighthouse Solar like this in the future."
Scott Franklin, President of Clean Energy Solutions that owns Lighthouse Solar and
Lighthouse Finance, commented, "This is a very exciting opportunity to set an
example of how renewable energy systems can benefit all types of business, even
Country Clubs. Non‐profit entities like BCC can really take advantage of these PPA
structures which enable them to benefit from clean, renewable energy and take
advantage of the tax benefits of the installation through Lighthouse Finance, not to
mention locking in their utility rates for the next 20 years!"
The system's production can be viewed online by visiting the system's Lightgauge
website: lg227.d.lightousesolar.com. A time‐lapse video of the installation can be
viewed on the Lighthouse Solar website: www.lighthousesolar.com.
If you would like more information regarding the BCC installation or to schedule an
interview with Scott Franklin please contact Tom DeFrancia at 303‐638‐4562 or
email him at tom@lighthousesolar.com.
Featured Product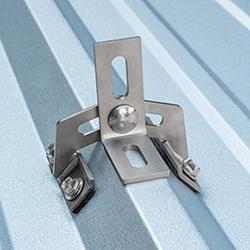 QuickBOLT Low Profile QuickBOLT with Microflashing™ is the industry's affordable, UL Certified Asphalt Shingle mounting system. The Microflashing™ is compressed by the collar on the bolt to create a water-tight seal. With an installation time of less than one minute, the Low Profile QuickBOLT allows installers to complete more jobs.