Alliance to Save Energy Supports Obama's Call for 'Clean Energy Jobs' to Unleash Multiple Benefits of Energy Efficiency
Washington, D.C., March 5, 2010 - The Alliance to Save Energy today seconded President Obama's call for creation of homegrown "clean energy jobs" to produce products that will help consumers lower their home energy bills while protecting the environment. The Alliance said federal support for such jobs would also help ensure America's place as a global manufacturing leader in the 21st century.
The Alliance applauded the president's remarks delivered today at OPOWER, an Arlington, Va., energy efficiency software company that helps consumers reduce their energy bills. The president's choice of venue for his speech today was significant: OPOWER has doubled its own employee ranks in the past year while promoting energy efficiency.
"By creating new jobs to advance energy efficiency, we are simultaneously tackling our nation's high unemployment rate and positioning America as a global manufacturing powerhouse in the emerging global clean energy economy," said Alliance President Kateri Callahan.
"The process of creating clean energy jobs happens naturally when consumers want to save on their energy bills," said Callahan. "When they install energy-saving products, they hire contractors who buy from retailers, who buy from manufacturers. This opens up a wealth of opportunities with wide-ranging ripple effects.
"President Obama understands that energy efficiency is not a 'one-hit wonder,'" she added. "It is now an intrinsic and essential part of our nation's economy."
The president's speech today reinforced one earlier this week touting the Home Star program of rebates for homeowners who make substantial energy efficiency retrofits to their homes. In both sets of remarks, the president emphasized that most energy-efficient products used in such home improvement projects are manufactured in the United States, and that rising demand for those products will spur job growth.
For More Information:
Craig Schattner 202-530-4346; cschattner@ase.org
Ronnie Kweller 202-530-2203; rkweller@ase.org
####
The Alliance to Save Energy is a coalition of prominent business, government, environmental, and consumer leaders who promote the efficient and clean use of energy worldwide to benefit consumers, the environment, the economy, and national security.
Featured Product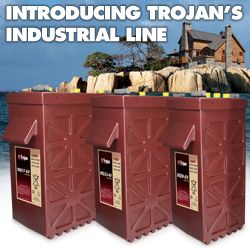 Trojan's deep-cycle batteries provide rugged durability, outstanding performance and long life for use in all types of solar energy installations. With over 90 years of experience, Trojan delivers the world's most reliable and trusted batteries in flooded, AGM, Gel, and Lithium types. These batteries enable solar equipment systems to operate at a peak level of performance in the harshest conditions or the most challenging of locations and are manufactured and tested to IEC standards.