SGS will be at the EWEC 2010 from April 20 - 23, 2010 in Warsaw, Poland. SGS is one of the exhibitors and will present its wind energy services at stand no. 4058 in hall 4.
EWEC is the only annual event combining an extensive exhibition of the leading players with a conference covering every key aspect of the wind market, which provides a good opportunity for SGS Competence Center Wind Energy to present its wide range of Wind Energy Services to the European audience.

The scope of SGS Wind Energy Services showcased by SGS includes, but is not limited to, Project Execution, Wind Turbine Blade Testing, Risk Management and Quality, Health, Safety & Environmental (QHSE) Management.
Project Execution offered by SGS includes Project Management, Tender Support, Construction Supervision and Commissioning Supervision as well as QA/QC Management and Inspection, which are indispensible services for the successful development of any wind farm project.
Another relevant service for wind farm owners is Risk Management. SGS supports its clients by identifying and managing financial and legal, market and political, technical and operational, environmental, social and economical risks throughout the whole project life cycle of a wind farm.
Attendees will also have a unique chance to learn more about QHSE Management. Implementing a QHSE Management System ensures conformity to the legal and permit obligations and prepares companies for ISO 9001, ISO 14001, and OHSAS 18001 certification audits.
Furthermore, SGS will present its innovative SGS Wind Energy Technology Center (WETC) which will open shortly in Tianjin, China, enabling SGS to provide full-scale Wind Turbine Blade Testing and Certification.
About SGS Wind Energy Services
SGS, the preferred international partner for onshore and offshore wind farm projects, provides a fully comprehensive program of services for the Wind Energy Sector designed to meet the specific requirements of its clients. Our strength comes from our experienced staff who have the required technical expertise in wind technology.
For further information, please contact:
SGS Industrial Services
Myriam Ressel
Global Marketing Coordinator
SGS Group Management Ltd.
Raboisen 28
D - 20095 Hamburg
t: + 49 40 30101 541
f: + 49 40 30101 936
Featured Product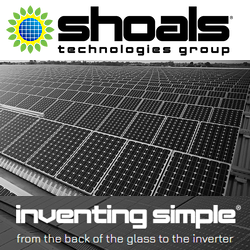 Inventing Simple® isn't just a slogan to us, it's a way of life. Using simple plug-and-play ideology, we revolutionized solar installations in 2003 with our Interconnect System™. Our harnessing system is now the gold standard EPC's use around the world. By using simple ideas, we are making solar energy a more affordable and clean power source for future generations.