The National Hydrogen Association has compiled information on these topics and others about how hydrogen and fuel cells are being used in the US. The NHA's US Market Report examines the merchant hydrogen market (where hydrogen is sold to businesses and consumers for use as an energy carrier) from the perspectives of production and delivery; use, and education and employment.
Every day, people are making decisions about clean energy technologies. Doesn't it seem like individuals, companies, and elected officials and representatives are looking for a silver bullet solution that will improve the air, end oil dependence and create new jobs? The silver bullet is a blend of energy technologies, each with different strengths that meet different challenges. Hydrogen and fuel cell products offer strengths to meet many needs, including transportation, power and material handling—and we can show you why.

Today, hydrogen and fuel cell products:
* Keep our cell phones working when the power to telecommunication towers fails;
* Transport people, safely, smoothly and quietly, on public transit and in private vehicles with zero emissions from the tailpipe and significantly reduced emissions overall; and
* Move the food you eat and the products you buy around distribution centres across the country, making both environmental and economic sense to the companies who operate them as part of their material handling fleet.
That's right. People are buying and using hydrogen and fuel cell products today.
# # #
About the National Hydrogen Association
The National Hydrogen Association (NHA) is the premier hydrogen trade organization led by 100 companies dedicated to supporting the transition to hydrogen. Efforts are focused on education and outreach, policy, safety and codes and standards. Since 1989, the NHA has served as a catalyst for information exchange and cooperative projects and continues to provide the setting for mutual support among industry, research and government organizations. www.HydrogenAssociation.org
Featured Product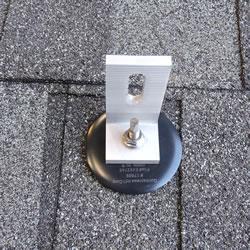 The QuickBOLT is THE affordable mounting solution for Asphalt Shingle Roofs. Not only is it the lowest cost system in the industry, it also maintains the fastest install time of any mounting system available. Unlike other Asphalt Mounting systems that require bulky flashing, the QuickBOLT uses a small EPDM washer and is 100% waterproof! Part # 17672