FRABA'a innovative OPTIPACT motion sensors provide a convenient means of monitoring rotor speed in wind turbines. These non-contacting sensors are convenient for use in either new installations, or for retrofits to existing machinery.
Hamilton, New Jersey, April 2010 - FRABA's OPTIPACT motion sensors measure velocity by calculating the rate at which an image of a moving surface travels across an optical sensor. With no contact between the sensor and the moving object, dust or surface contaminates won't cause problems. OPTIPACT sensors provide an ideal way of determining rotor speed in wind turbines: just measure the velocity with which part of the rotor (e.g. nose cone or shaft) moves past a point on the body of the turbine. OPTIPACT motion sensors are compact, robust and ideal for primary or backup rotor speed regulation. This is just another example of the wide range of velocity measurements that are easily accomplished with these versatile motion sensors!

About INTACTON
INTACTON is a business unit of FRABA Inc., the North American sister company of FRABA GmbH, a highly specialized manufacturer of sensors for automation, motion control and safety applications based in Cologne, Germany. The company belongs to the FRABA Group which dates back to 1918, when its predecessor, Franz Baumgartner elektrische Apparate GmbH, was established to manufacture relays. Today, the group consists of six independent companies that develop and produce advanced industrial sensor technology and safety equipment.
Further Information
Featured Product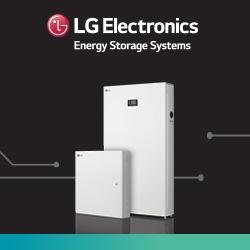 LG Solar is transforming today's solar landscape, offering precision-manufactured and high-efficiency solar panels for homeowners who demand high performance, reliability and consistently strong energy yield from a brand they can trust. LG modules feature outstanding durability, appealing aesthetics and high-efficiency technology, backed by a limited 25-year product, performance and labor (up to $450) warranty. Homeowners who purchase LG Solar modules know they're protected by a diversified global brand.