SolarDay 2010 will be held nationwide and worldwide on Saturday, June 19 in the U.S. This year's Official PV sponsor is SunPower Corporation. Additional sponsorships are available for solar, green and consumer solar products. Contact John Reed, SolarDay Founder at: jreed (at) elevatorpr.com.
John Reed, Founder
SolarDay 2010
San Francisco, CA
(415) 846-4862
jreed@elevatorpr.com
Addison Huegel, Director:
SolarDay 2010
www.solarday.com
San Francisco, CA
ahuegel@solarday.com
News Notes:
Interview: John Reed is available for a phone interview to talk about SolarDay 2010 and the huge growth of solar energy in the U.S.
Photos: A photo of John Reed can be emailed to you along with the SolarDay 2010, logo.
Thank you.
John
Second Annual SolarDay to be held Nationwide and Worldwide
Saturday, June 19
www.solarday.com
(San Francisco, CA) - SolarDay 2010 is a national and international day of recognition for Solar Energy, Sustainability and Energy Independence. The first SolarDay in the U.S. was held in 2009.
The second annual SolarDay will be held on Saturday, June 19.
Higher Energy Costs and Our Need for Energy Independence
The price of oil is going up again, now at $86 a barrel, which means we'll all be paying more to drive our cars and our fossil-fuel energy costs will rise - again.
With high (and going higher energy costs) SolarDay 2010 includes useful information for consumers to go on an "energy diet", including an energy audit they can easily do for their home or business, information about solar rebates (and how they vary by location and state), informtion about the PACE program (now in 16 states to pay for solar), suggested SolarDay community events for U.S. cities and organizations, contacts for website visitors to U.S. government and state government websites related to energy conservation.
John Reed, San Francisco-based Director of SolarDay 2010 said: "More and more people are adopting greener lifestyles. Solar is a major component to green lifestyles. You see green in the cars we drive, the consumer products we buy, the everyday things we do - from recycling to building greener homes and commercial buildings - and the intensive interest in lowering our energy costs and energy conservation. And, let's not forget that 50% of the electric energy produced in the U.S. is from burning coal. In China, 83% of the electricity is generated by burning coal.
Really Reducing Our Monthly Energy Bills
"Government support of solar on the state and Federal level has made solar affordable. People with solar installations for their homes and businesses can dramatically reduce their monthly energy bills. And, there are many incentive and rebate programs that can reduce the cost of a solar installation by nearly half. Plus, new programs allow you to pay off your solar installation through your property taxes and other methods. Some solar companies will install a solar installation at no cost - and simply charge you for the electricity you consume - at a guaranteed rate with no surprises.
SolarDay and the Greening of America
"The Greening of America is truly national. With every sunrise we have the opportunity to move in the direction of energy independence and sustainability wherever we live in the U.S."
# # #
Featured Product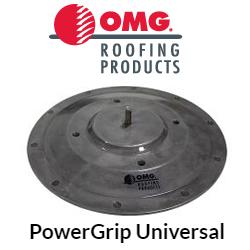 Eliminate Solar Rack Ballast and Reduce Rooftop Material Handling. PowerGrip™ Universal (PGU) is a commercial roof mount system designed to secure solar racks and other equipment to any type of commercial roofing system. PGU provides a secure connection directly to the roof deck or structural members and is designed to reduce or eliminate ballast in solar racking systems, so there's less weight on the roof and less material handling. Made of heavy-duty cast aluminum, PGU units include a base ring which is secured through the roofing cover and into the structural roof deck, and a waterproof top plate.