Lighthouse Solar adds another location in Oahu, Hawaii.
Lighthouse Solar, a Boulder, Colo. based solar integration company, has recently

granted a franchise in Oahu, Hawaii. Lighthouse solar and Mark Kelley, its new
franchise partner, see a bright future for solar energy on the island.
Hawaii has set very aggressive goals for meeting a high portion of its energy
demands from renewable energy. Currently, the state derives nearly 90 percent of
its electricity production from fossil fuels. Hawaii does not have these resources on
its islands meaning oil, gas, and coal are shipped in creating higher energy costs and
more of a reason for Hawaii to create its own renewable energy.
Lighthouse Solar developed its franchise program from an integrators perspective.
"Our program was created through years of growing successfully in a competitive
solar energy market," said Tom DeFrancia, Vice President of Lighthouse Solar. "We
have bottled our business model, added training and support staff, and now offer a
complete business opportunity for those looking to enter the sales, design and
installation of solar energy systems."
If you would like more information regarding the Lighthouse Solar Franchise
Program, or to schedule an interview with Tom DeFrancia and Lighthouse please
contact Jena Skivington at 303‐638‐4562 or email her at Jena@lighthousesolar.com.
Featured Product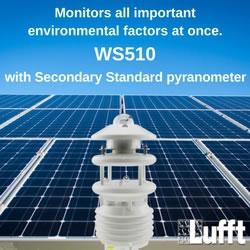 Professional weather sensors form the heart of large solar plants supporting their operation and performance. Lufft was the first manufacturer to combine several sensors in one housing, bringing the largest multiparameter weather sensor family with 19 members into being. Many of them are well-suited for solar site assessment and continuous monitoring. The most commonly used one is the WS600 delivering data on temperature, air pressure, wind, relative humidity and precipitation. Through its open protocol, it can easily be attached to radiation sensors e.g. from Kipp&Zonen. Other models have an integrated Silicon, Second Class or Secondary Standard radiation sensor.