The transaction involves both a capital investment into a REgeneration affiliate from Silfab and a collaboration agreement between REgeneration and Silfab USA LLC.
(Padova, April 15, 2010) — Silfab S.p.A., a leading international vertically-integrated photovoltaic company, announced this week that it has entered into a joint-venture with REgeneration Finance LLC., a premier developer of solar energy projects with offices in Harrison, NY and San Francisco.

The transaction includes both a capital investment from Silfab to finance a REgeneration affiliate and a collaboration agreement between REgeneration and Silfab North American subsidiary, Silfab USA LLC. The funds will be used to expand the program of financing and structuring commercial and utility scale solar energy projects involving schools, universities, municipalities and major corporations spearheaded by REgeneration. Besides participating as a capital investor, Silfab will contribute with its technical expertise as utility scale developer and PV products and systems manufacturer.
The initial focus is to structure and provide construction, debt and related equity financing to large scale distributive generation projects throughout the United States. The joint venture will ultimately own these projects.
"The marrying of REgeneration's financial expertise with our long experience in developing and operating photovoltaic power-plants should deliver ultimate benefits to US consumers seeking affordable, clean energy" commented Franco Traverso, Chairman and CEO of Silfab. "We look forward to working closely with the REgeneration team to create a vibrant commercial and utility scale photovoltaic market in the United States" he added.
"We are very proud to be associated with one of Europe's top PV integrators and solar energy providers" said Lorrie Friedman REgeneration's CEO. "Their principal founders have over 30 years of diverse experience in our industry covering the entire photovoltaic supply chain. This partnership provides cutting-edge technologies and best practices that have evolved in the European markets."
"Silfab has over 60MW of utility scale projects under development in key southern European markets, and whose founders, Franco Traverso (an Italian pioneer in the solar energy industry), Pan Asia Solar Ltd. and Sino-American-Silicon Products Inc. have an unmatched record of building successful solar energy companies - we can think of no better partner to work with to take advantage of the coming boom of US solar activity" added Friedman.
Coltin Securities LLC acted as financial advisor to REgeneration in the transaction.
ABOUT SILFAB S.P.A
Headquartered in Padova, Italy, Silfab S.p.A is a leading provider of vertically integrated PV products and services globally. With activities spanning manufacturing, consulting and energy generation, the company seeks to further the advancement of photovoltaic energy through employing cutting-edge technologies. The company's founders have extensive experience in the PV industry and have partnered with industry-leading engineering firms and equipment providers to establish a team with knowledge and demonstrated success across the entire photovoltaic value chain and project development methodologies. Its partners include Franco Traverso, an Italian pioneer in the solar energy industry who founded and developed Helios Technology S.p.A., one of Italy's leading solar energy companies, Pan Asia Solar Ltd., whose principals co-founded some of the most successful listed PV businesses including Suntech (NYSE: STP), JA Solar (NASDAQ: JASO) and China Sunergy (NASDAQ: CSUN), and finally Sino-American-Silicon Products Inc., a listed (5483.TWO) provider of premium silicon wafers to the photovoltaic and semiconductor industries.
ABOUT REGENERATION FINANCE LLC.
REgeneration Finance is an experienced developer of solar energy systems, providing solar energy power to municipal, commercial and non-profit entities. Through a financial structure that fully utilizes various federal and state benefits, REgeneration Finance allows its clients to receive all the financial and social benefits of renewable energy, including reducing their carbon footprint, with no initial capital investment. Their customers typically receive substantial energy savings over what they would have otherwise paid to their respective utility. REgeneration Finance is able to provide such savings through an efficient capitalization of renewable energy tax credits along with traditional forms of financing.
FOR MORE INFORMATION
SILFAB S.P.A.
Via Medoaco 4
35135 Padova, Italy
Tel. +39 049 9431374
MEDIA CONTACT:
l.ceccon@silfab.eu
tel. +39 0444 512733
REGENERATION FINANCE LLC
Nick Addivinola
550 Mamaroneck Avenue, Suite 402
Harrison, NY 10528
Tel. +1 914 777-2918
Featured Product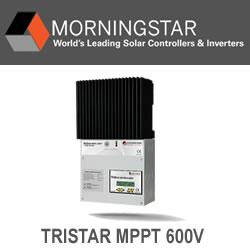 Morningstar's TriStar MPPT 600V charge controller leverages Morningstar's innovative TrakStarâ"¢ MPPT technology and our 20+ years of power electronics engineering excellence, to enable the widest input operating voltage range available from a solar array, wind turbine or hydro input. This controller's standard and DB versions are for off-grid applications, and the TR versions were developed to enable retrofitting grid-tied systems with battery backup.