At 9:30am March 30, 2010, 2010 5th AsiaSolar PV Industry Exhibition held its grand opening ceremony in Shanghai Mart with great attention from the PV industry.
At 9:30am March 30, 2010, 2010 5th AsiaSolar PV Industry Exhibition held its grand opening ceremony in Shanghai Mart with great attention from the PV industry.

As an important platform of technology and trade communication, AsiaSolar 2010 has not only got great support from CNECC (China New Energy Chamber of Commerce) and CIPPT-Pudong Sub Council, but also from famous PV enterprises home and broad.
AsiaSolar2010 exhibition attracted more than 300 exhibitors covering area of 25000 Sqm. Famous companies like: Suntech, wavetown, LDK, Astronergy, Tianwei Solar Films, China Sea Sun, Canadian Solar Inc, Zhejiang Jing Gong Science and Technology, Sungrow, JETION, ALMADEN PV Glasses, Green Power, ReneSola, Siemens, Schneider Electric, Risun Solar Energy, Jinko Solar, Sunflower, JiashengSolar, Eoplly New Energy, Schletter, Centrotherm, Canergy, MEMC, P.ENERGY, Bohm-Solar, etc all exhibited in the exhibition.
The exhibition content included the whole PV industry chain, covering from PV cell & module, manufacturing equipment, PV materials, PV engineering, etc.
During the five years, AsiaSolar2010 kept a continuous increase of 30% in term of exhibitors and display area. According to the on-site statistics, there were 21430 professional visitors and 3104 international purchasers, 65% exhibitors got on-site order, 79% exhibitors and 87% visitors gave good comments on the exhibition; 90% exhibitors showed their intention that they would exhibit in the following year and 96% purchasers showed that they planed to purchase next year.
At the mean time, 2010 5th AsiaSolar PV Industry Forum opened during March 31 -April 1 at Shanghai Rainbow Hotel. With the theme of "New Opportunity, New Technology, New Application", focusing on the subjects of "Analysis on Domestic and International PV Policies", "Building Integrated Photovoltaic and PV Grid-Connected System", "The Newest Technology and Products of Crystal Silicon Cell" "The Newest Technology and Products of Thin-Film Battery" and "The Newest Technology and Products of Crystal Silicon Cell", the forum gave a full analysis to the newest market trend.
The keynote speakers of the forum are: Zhu Youdi-Director General, Department of Social Development, Research Office of the State Council; Dr. Zhao Gang-Section Chief of National Research Center for Science & Technology for Development; Dr.David Renne-Chairman of International Solar Energy Society (ISES), Principal Project Leader of National Renewable Energy Laboratory (NREL); Wolfgang Palz-President of World Renewable Energy Honorary Member of International Solar Energy Society, Counselor of European Commission; Andre Claverie-Consultant in Solar Photovoltaics, French Agency for Environment and Energy Management; Alessandra Scognamiglio- Expert on Sustainable Architecture & BIPV Italian National Agency for New Technology Energy and Sustainable Economic Development (ENEA); Daniela Schreiber-Head of Strategic Operations, EuPD Research, Germany; Denis KOCH-CEO of Renewable Energy Business, Schneider Electric (China) Investment Company; Hu Runqing-Deputy Researcher of The National Development and Reform Commission Energy Research Institute Renewable Energy Development Center; Yang Liyou -General Manager of Zhejiang Astronergy Technology Co.,Ltd; Qu Xiaohua-Chairman and CEO, Canadian Solar; Cao Renxian-CEO of Hefei Sunlight Power; Zhou Min-CEO of ENN Solar Solutions Co., Ltd; Xue Liming -CEO of Chinaseasun (Beijing) New Energy Power Co., Ltd; Mai Yaohua-CTO,Doctor, TianWei SolarFilms Co., LTD; Akbar Tellenbach- CTO of Siemens, etc.
About 300 industry insiders attended the forum, including technicians and engineers from PV companies, representatives from power companies, officials and experts in PV market, industry media, etc. Keynote speakers and attendees had a flowing communication and heated discussion, which brings the forum a lively atmosphere.
Generally speaking, 5th AsiaSolar PV Industry Exhibition and Forum has been held successfully under the support of exhibitors and organizations and various industry friends. In March 2011, we will hold the 6th AsiaSolar PV Industry Exhibition and Forum at The Theme Pavilion of Shanghai World Expo with new feature and service. Please pay attention!
Featured Product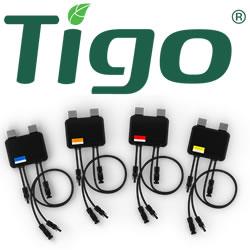 Tigo will announce the new product launch of the patented UHD-Core TS4-A (Advanced Retrofit/Add-on) Platform at SPI 2019. The new TS4-A-M (Monitoring) & TS4-A-S (Safety) units have improved lightweight hardware and lower labor costs to address a range of functions and budgets. The TS4-A-M allows module-level monitoring via Tigo's SMART Website & App. The TS4-A-S is UL-certified as a rapid shutdown solution for residential and C&I PV system. Both units join the Tigo's multivendor solution that works with almost any inverter and smart module in the global PV market. Contact sales@tigoenergy.com for pricing, shipping, and availability in Q4'19.