REHAU, an international innovator and manufacturer of polymer-based products and systems, announced the official groundbreaking for the REHAU MONTANA ecosmart house today in Bozeman, Mont.
REHAU, an international innovator and manufacturer of polymer-based products and systems, announced the official groundbreaking for the REHAU MONTANA ecosmart house today in Bozeman, Mont.

Sponsored by REHAU and led by the Creative Research Lab (CRLab) at Montana State University (MSU), the residential modeling and construction project aims to exhibit the possibilities of maximized energy efficiency and occupant comfort through a combination of the latest sustainable building products and systems. The project additionally engages leading international building industry professionals, material and product manufacturers, and MSU professors and students from across multiple academic disciplines to achieve this aim.
In its entirety, the three-year project includes research, design and construction of a residence in Bozeman, Mont., followed by a two-year period when the house will be monitored for system performance and research. In addition, ongoing construction updates and a virtual 3D model of the house, once completed, will be accessible for viewing online.
"We began this residential design and planning project as both an ongoing, real-world learning and teaching tool for our students, and as a source of valuable data for those in the construction industry looking for the best ways to meet the latest LEED, NAHB and IBEC certification standards," said Terry Beaubois, director of the CRLab at MSU. "After a year of planning and design, it is so exciting for all involved to see the project now moving into the construction phase."
The house will feature a number of sustainable building technologies, including: geothermal ground loop heat exchange; ground-air heat exchange; radiant heating and cooling; solar thermal energy for hot water and photovoltaic (PV) for electricity; vinyl window and door designs, including a hybrid curtain wall system; structural insulated panels; and insulating concrete forms. It will also include disability-oriented design features such as an elevator and tambour cabinet doors as well as elements to address such human sustainability considerations as telemedicine and aging-in-place.
"The REHAU MONTANA ecosmart house is a unique and authentic showcase of both the present and future possibilities in sustainable building," said Dr. Kitty Saylor, REHAU North America CEO. "It demonstrates how optimized energy efficiency and occupant comfort can be achieved through thoughtful building practices."
According to Dr. Saylor, the project offers a unique opportunity for building system testing and evaluation in order to determine optimal system selection and integration. To achieve this, the house will include a number of redundant systems, including those for cooling and fresh air intake, which can be examined for both independent and integrated performance. Research will focus not only on system optimization, but also foster analysis on such aspects as resale value, insurance premiums and other elements of a home's worth based on the incorporation of these systems.
"Being involved in the REHAU MONTANA ecosmart house is especially rewarding as Montana is my home state, and I received my undergraduate degree from MSU," Saylor said. "It's exciting to see the university's exceptional resources highlighted through this project, as well as to be collaborating as an active part of the process."
Once constructed, the house will be owned and occupied by an alumnus of the MSU School of Architecture. Research and data collection will continue through occupancy to monitor everyday system functionality, and the CRLab will administer a post-occupancy evaluation (POE) and make real-time data results available for review on the project's website.
For additional information on the REHAU MONTANA ecosmart house, visit www.montanaecosmart.com or contact: REHAU, 1501 Edwards Ferry Rd., N.E., Leesburg, Va., 20176. Phone: 1.800.247.9445. Fax: 1.800.627.3428. E-mail: rehau.mailbox@rehau.com. Web site: www.na.rehau.com.
About REHAU
REHAU delivers "Unlimited Polymer Solutions," and is the premium worldwide brand for polymer-based innovations and systems in construction, automotive and industry. The company generates continuous growth through its expertise and innovative capabilities in materials development, systems design and surface technology. Approximately 15,000 employees at more than 170 locations around the world ensure success of the independent, privately held company.
About CRLab
The Creative Research Lab (CRLab) of the Montana State University College of Arts and Architecture undertakes creative, funded, applied research projects with multidisciplinary, collaborative teams of students, faculty and professionals. In addition to the College's school of Art, Architecture, Film and Photography and Department of Music, CRLab projects include those from other MSU colleges and university-level organizations. Additional information is available at www.montana.edu/crlab.
-# # #-
Featured Product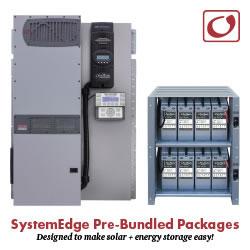 Each pre-bundled package is designed to make solar plus energy storage easy. By combining OutBack's most popular FLEXpower pre-wired systems with matched OutBack energy storage, SystemEdge takes the guesswork out of installing solar plus storage. Every SystemEdge package includes a FLEXpower factory pre-wired system, application-specific EnergyCell batteries and racking, FLEXware ICS Plus combiner and all the necessary connection hardware.