KinergyPower is proud to announce the addition of two new products - KinerPad and KinerRail to its family of innovative energy-harvesting units. KinergyPower now has products that can be used in a wider number of traffic situations.
KinergyPower of Welland, Canada and Bedford, NY is adding more products to its exising line. KinerPad is designed to harvest energy from the motion and weight of pedestrian traffic and in exchange, provide lighting. The unit will be available for viewing in July.

Also under development currently is KinerRail, which can be used with trains and subways. Because of the weight and the amount of these vehicles, is capable of harvesting significant amounts of energy.KinerRail is expected to be available in September.
KinergyPower is a US patented invention of Stefanos and Dimitri Horianopoulos.
KinergyPower is currently working on its first Canadian installation at the transit terminal in Welland, Canada.
Featured Product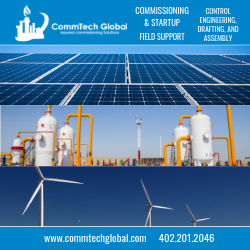 CommTech Global Solutions, LLC, provides professional and reliable commissioning services to customers in all realms of the energy industry. We blend our skills in engineering and technology with innovative business models, offering a complete range of services to assist you for a successful and in compliance operational startup. Consolidation of all our service domains gives our clients a comprehensive set of expertise and far-reaching experience on each project.