The Spanish company PROINSO will participate in the supply of modules over the coming months, destined for a solar photovoltaic project of 35 MW located in the Italian province of Ravenna, developed by the company TOZZI.
This new agreement comes on top of another 40 MW of modules, MECASOLAR trackers and SMA inverters, already contracted up to May 2010 with the Spanish multinational for 186 solar photovoltaic energy projects in Italy.

These figures make PROINSO Italy- who will be present at the SOLAREXPO fair in Verona from 5 to 7 May- "a leader in its industry with sales forecasts for 2010 close to 100 MW in the Italian market.
160 Qualified installers in Italy
An important part of the supply agreements closed by PROINSO in Italy until April 2010 has been formalized through its network of qualified installers that has now reached the figure of 160 companies in the country. Currently, the Installer Network (PROINSO Qualified Installer) is comprised of installers from Italy, Germany, Spain, France, Greece and the United States; and other countries such as Bulgaria, Belgium, Canada, Cyprus, Colombia, Ecuador, Slovenia, Mexico, Portugal, The Czech Republic, Switzerland and Tunisia.
Among other benefits, the qualified installer has the backup of the support from the PROINSO team of professional experts in engineering and legal issues, to address any questions arising in the projects.
They also receive training on the new products launched by manufacturers and have total availability in the supply of material PROINSO have in stock. Noteworthy too is their logistics platform in Italy- as well as Spain, Greece and Germany, where support is given to all material supply requirements needed by installers.
Featured Product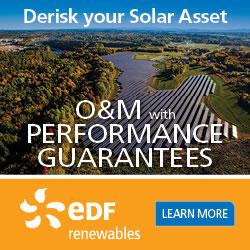 EDF Renewables offers the same innovative solutions that maximize the performance of our own 5.2 GW of installed projects. Because we're not an equipment manufacturer, our recommendations are transparent and data-driven. We cover the entire project lifecycle: from pre-commissioning support, through warranty and post warranty operation, to late stage and decommissioning.