MENASOL 2010 is pleased to announce a high official level Saudi Arabian delegation to join 200+ already confirmed at the conference including the recent Moroccan and Jordanian delegations.
If you are involved in CPV, Thin Film or CSP this announcement is especially important for you because you will be able to access the key decision makers involved in the multi billion solar programs in the Kingdom of Saudi Arabia. The Saudi Oil Miniister Ali al-Nuaimi, recently said 'we can be an exporter of power…the oil won't last forever."

So meeting with this 18 strong delegation of senior officials is key to your strategy that will open doors in this booming market:
Ministry of Industry
Dr. Ibrahim Bablie, Director - National Industrial Program
Dr. Meslet Al-Hajiri, Director
Ministry of Electricity & Power
Dr. Essam Al-Ammar, Senior Advisor - Renewable Energy
Saudi Aramco
Eng. Moh'd AlObaid, Director - GAS Sales
Council of Saudi Chambers
Eng. Moh'd Al-Tasan, Director - Industrial Integration Centre
King Fahd University of Petroleum & Minerals
Prof. Habib Abualhamayel, Director - Renewable Energy Research Centre
KACST
Dr. Naif Al-Abbadi, Director - Energy Research Institute
Dr. Ayman A. Alabduljabbar, ERI's Assistant director
Yaseen G. Alharbi, Solar Village Site Manger
MENASOL 2010 is offering 1234 an exceptionally rare opportunity to network with these very important officials, and build relationships that will fast track your project in Saudi Arabia.
This delegation is explicitly attending to network with the 200+ solar professionals. There is no other event that will give you direct access to such a delegation.
Register your place today and you will be just days away from transforming your business in Saudi Arabia and the wider MENA region.
To register
1) Visit https://secure.firstconf.com/newsolartoday/solar-conference/register.htm
2) Call us on +44 207 375 7575 and speak to one of the New Solar Today team
Or contact Heidi Hafes the Events Director
New Solar Today
t: +44 (0) 20 7375 7206
US toll free: 1800 814 3459 ex: 206
e: heidi@newsolartoday.com
w: www.newsolartoday.com
Featured Product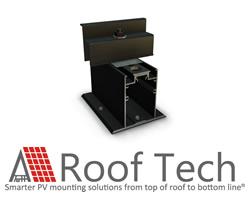 The most compact versatile rail-less PV mounting system under the sun. Instead of placing solar panels on top of long rails, simply attach E Mount AIR to rafters or the roof decking. Once panels are fastened to the roof, the system array is electrically bonded. The result is a visually seamless PV installation that stands the test of time. - Truly "One With The Roof". - PE stamped cert. letters available, UL 2703 Classified, ASTM 2140 fully waterproof. The one and only with integrated flexible flashing certified by the ICC! All the best quality. Only from Roof Tech